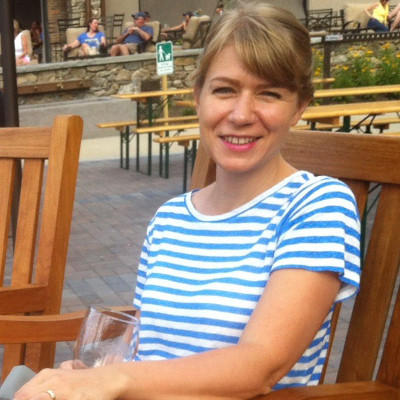 About Ali Douglass
Ali Douglass was born in Muncie, Indiana and at sixteen built a treehouse in the woods with salvaged materials. She continued to work on it until she was 26, until each wall was a piece of art reminiscent of Pee-Wee's Playhouse. The neighbors didn't really like it, but she didn't mind.

She studied at the School of the Museum of Fine arts in Boston and then transferred to Kansas City Art Institute in KC, MO to major in Illustration. After graduation in 1999 she moved to NYC and became a freelance illustrator and sold prints of her artwork on a six foot table on the sidewalks of SoHo for four years. In 2003 she moved to San Francisco because she likes bright colors and rollerskating by the bay. In 2009 she moved to Asheville, North Carolina and started teaching online at the Academy of Art University in addition to illustrating. In 2016 she got married to a handsome landscape architect and moved to Alexandria, Virginia. Her work is sold locally at Curated and Red Barn Mercantile in Old Town Alexandria.

For over 17 years Ali has illustrated magazines, newspapers, greeting cards, advertising, and more than 30 books. She has served as the Vice President of the San Francisco Society of Illustrators and her work has been recognized by American Illustration, Step Inside Design, and the L.A. Society of Illustrators.

Her illustrated books for American Girl have been winners of the 2008 Children's Choice Award, International Reading Association and Children's Book Council, and winner of the 2007 Excellence in Financial Literacy Award (EIFLE), Institute for Financial Literacy.