Lux Dental Chooses Wilsonart® to Elevate Dental Office Design
Dr. Suzanne Tack, DDS, is blazing new trails in dental practice with a space that makes people want to go to the dentist. Her mission to transform dental care radiates through the space and elevates the dentist office to a spa-like aesthetic.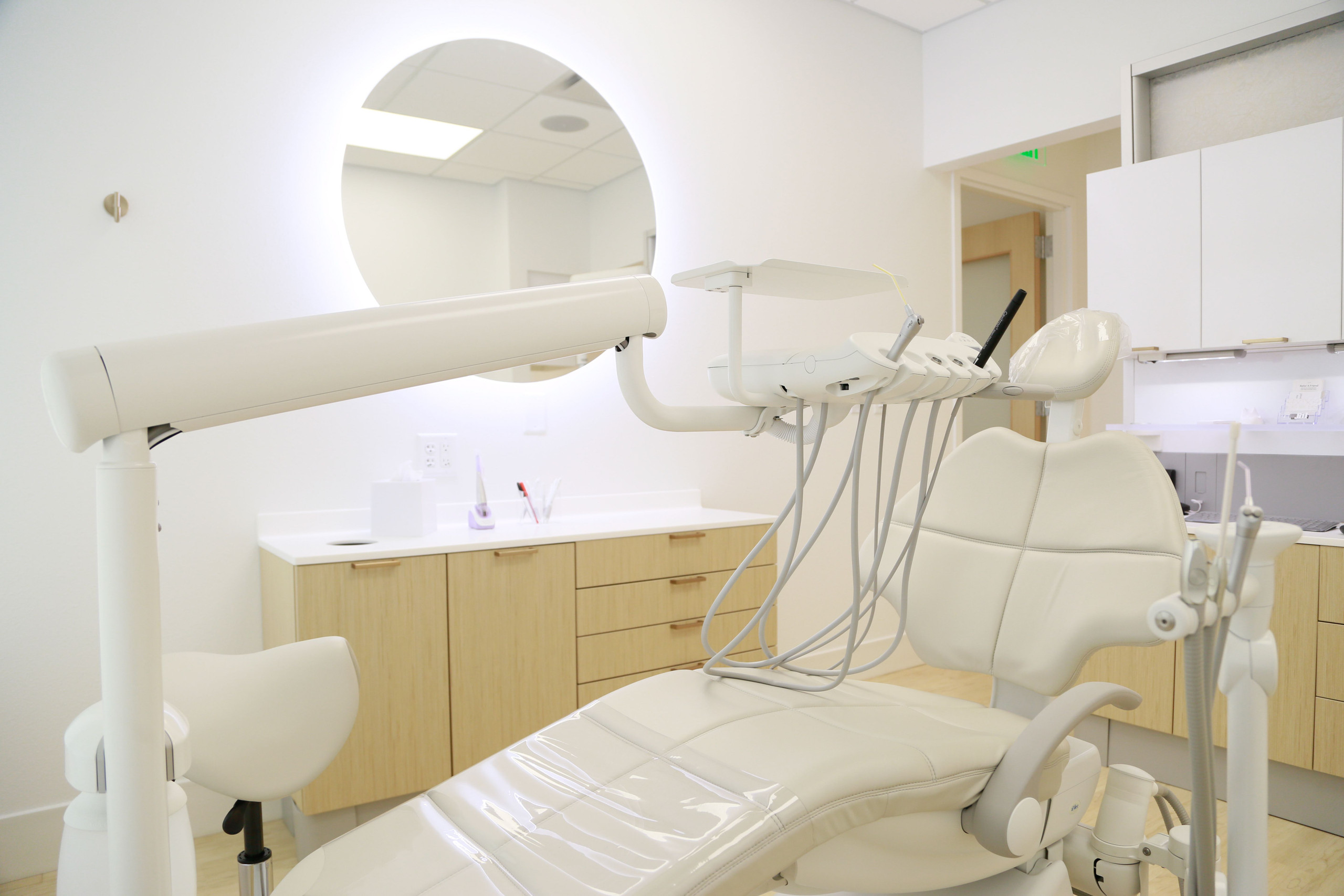 Wilsonart Provides Consultation and Design
To bring her vision to life, Dr. Tack turned to Brynn Bishop, National Account Manager and consultant at Wilsonart. Bishop leveraged her background in interior design and her knowledge of Wilsonart's on-trend, high-performing surfaces to create a hard-working, sophisticated space.
"We wanted it to feel like a luxury skin clinic. So we chose a resimercial design because you can have a clinical environment with a residential feel and commercial products. Wilsonart feeds into that fully," explains Brynn.
At the beginning of their project, they developed the brand and customer journey around a patient persona. Then Bishop mapped the patient's physical journey through the space, envisioning elegant yet functional front-of-house surfaces that harmonize with the hard-working surfaces in the treatment, administrative, and utilitarian spaces.
Wilsonart®: On-Trend and On-Time
To create a luxurious space that would appeal to clients and stand up to the daily demands of dental operations, Bishop recommended high-performance Wilsonart® High Pressure Laminate (HPL), Solid Surface, and Quartz. Dr. Tack had a broad range of designs, colors, and finishes to choose from, but to accommodate a consistent high-end look and feel that resonates throughout the office, Bishop recommended cohesive materials and a simple palette.
Because the boutique feel of Lux was a different undertaking for the architect and builder, Bishop consulted with them to customize every element. Despite the custom build, Wilsonart kept the project on schedule.
"We never had to worry about getting Wilsonart on time. The Quartz was early. It was waiting for us. The Laminate and Solid Surface were delivered on time. Everything was staged perfectly," she says.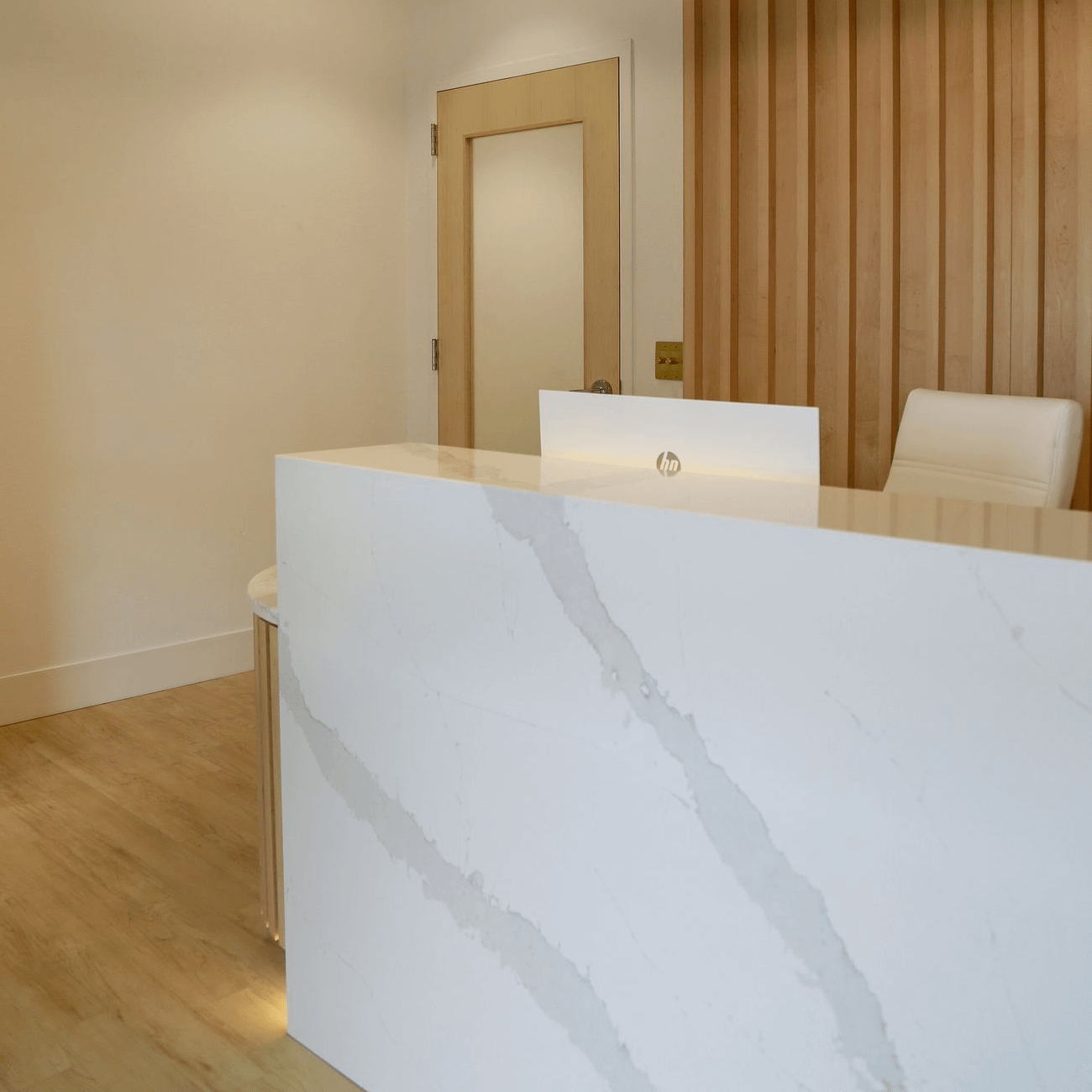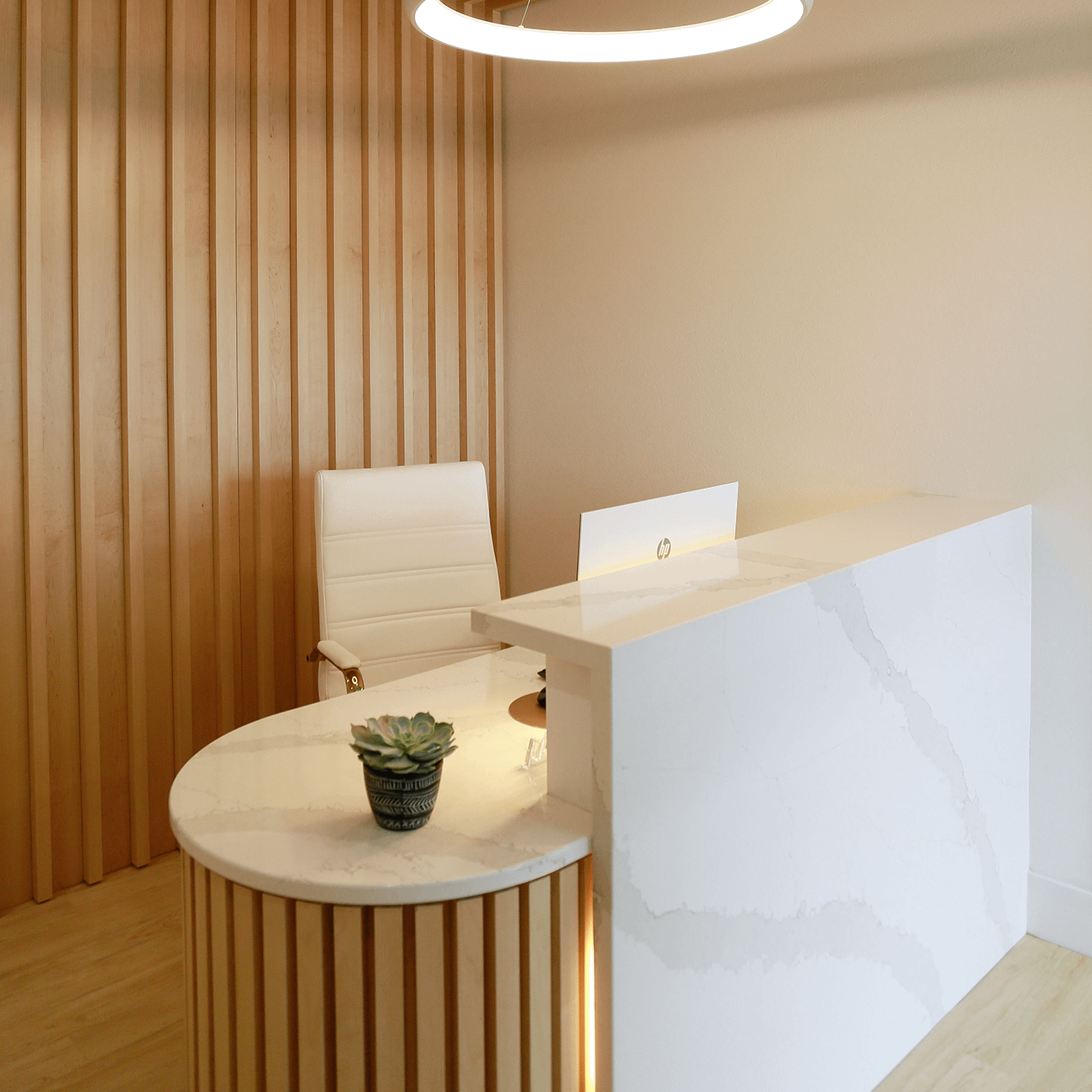 Luxurious Countertop in Calacatta Pastino Quartz
The finished project boasts an inviting entrance that features marble-look Quartz. For the warm wood features, the team carefully selected every piece to coordinate, from the HPL cabinetry to the woodgrain flooring to the stain for the woodwork.
Constructed of Calacatta Pastino Wilsonart® Quartz Q4058, the reception desk has a cascading waterfall edge that entertains the fantasies of today's savvy homeowners as soon as they walk in. The luxurious stone-look surface is a warm white with narrow and wide grey veins. Engineered to stand up to harsh environments, the versatile, non-porous surface is highly resistant to bacteria, chemicals, stains, heat, and moisture. So Dr. Tack can be sure her beautiful front-of-office countertops will carry her practice far into the future.
At the waterfall edge, the veining matches flawlessly between the vertical and horizontal surfaces. The finished piece demonstrates the expertise of the fabricator, who ensured a perfect match that isn't a centimeter off.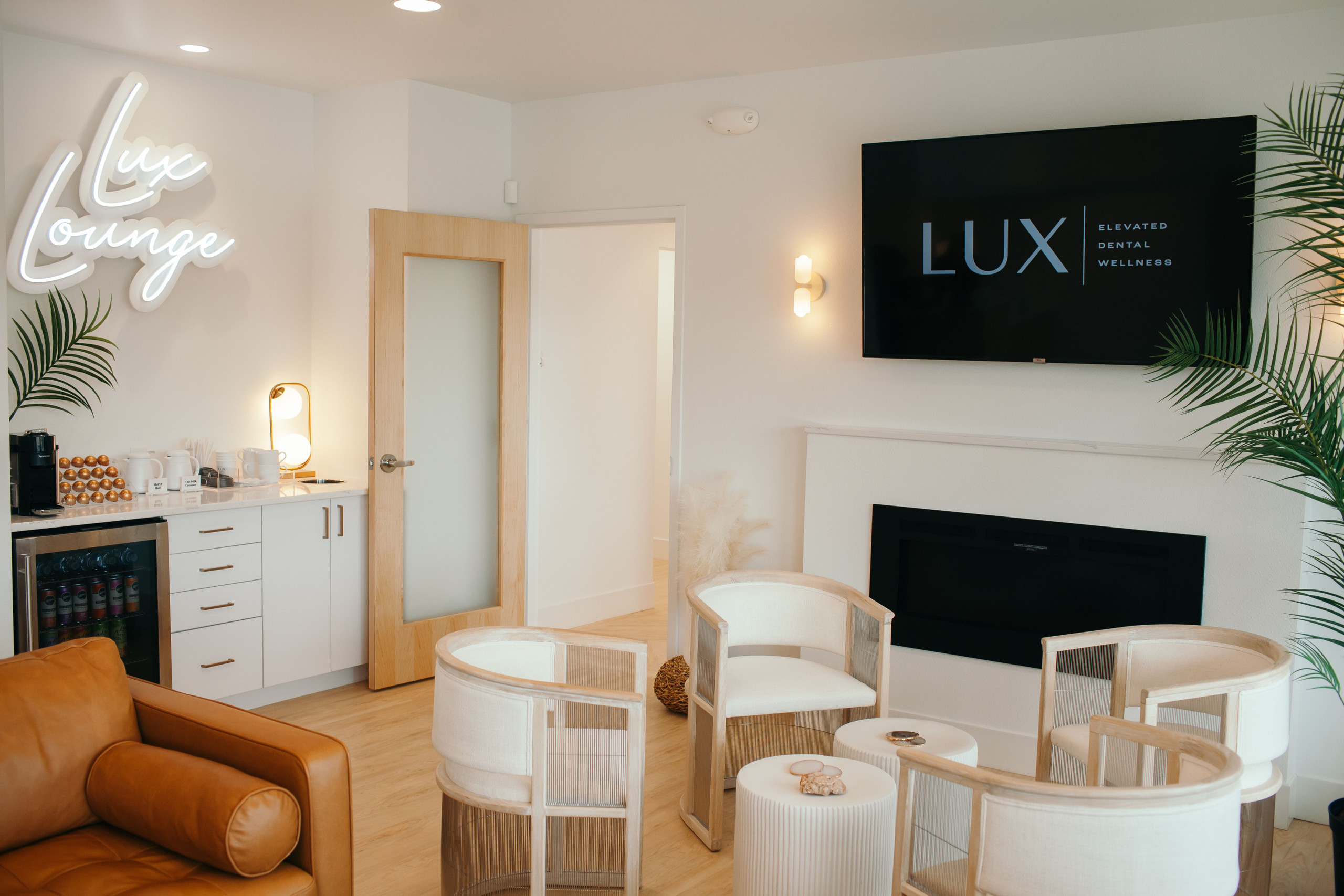 The front of house opens into a spacious lounge with a coffee bar and fireplace, which are also surfaced in Calacatta Pastino Quartz. Clients enjoy a cup of coffee or a glass of wine without worrying about leaving a ring or stain on the non-porous surface.
High-End Meets High-Performance with HPL and Solid Surface
In the hallway, Chevron-patterned luxury vinyl tile subtly guides clients to the treatment rooms, where elegance meets function.
For the cabinets, which needed to be as durable as they are beautiful, Bishop recommended Wilsonart® High Pressure Laminate (HPL). Designer White D354 HPL on the upper cabinets provides a visual openness, while Blond Echo 7939 HPL on the lower cabinets ground the space.
"It's clean. It's polished. It offers an appealing visual to Lux Dental. The cabinets are functional and easy to clean. They don't stain. They won't warp," she explains.
The clinical areas required high-performance countertop surfaces that could withstand harsh chemicals, cleaning solutions, and hot tools used on the operatory and sterilization stations. Designer White D354SL Solid Surface provides a fresh and clean aesthetic, low maintenance, and the required performance.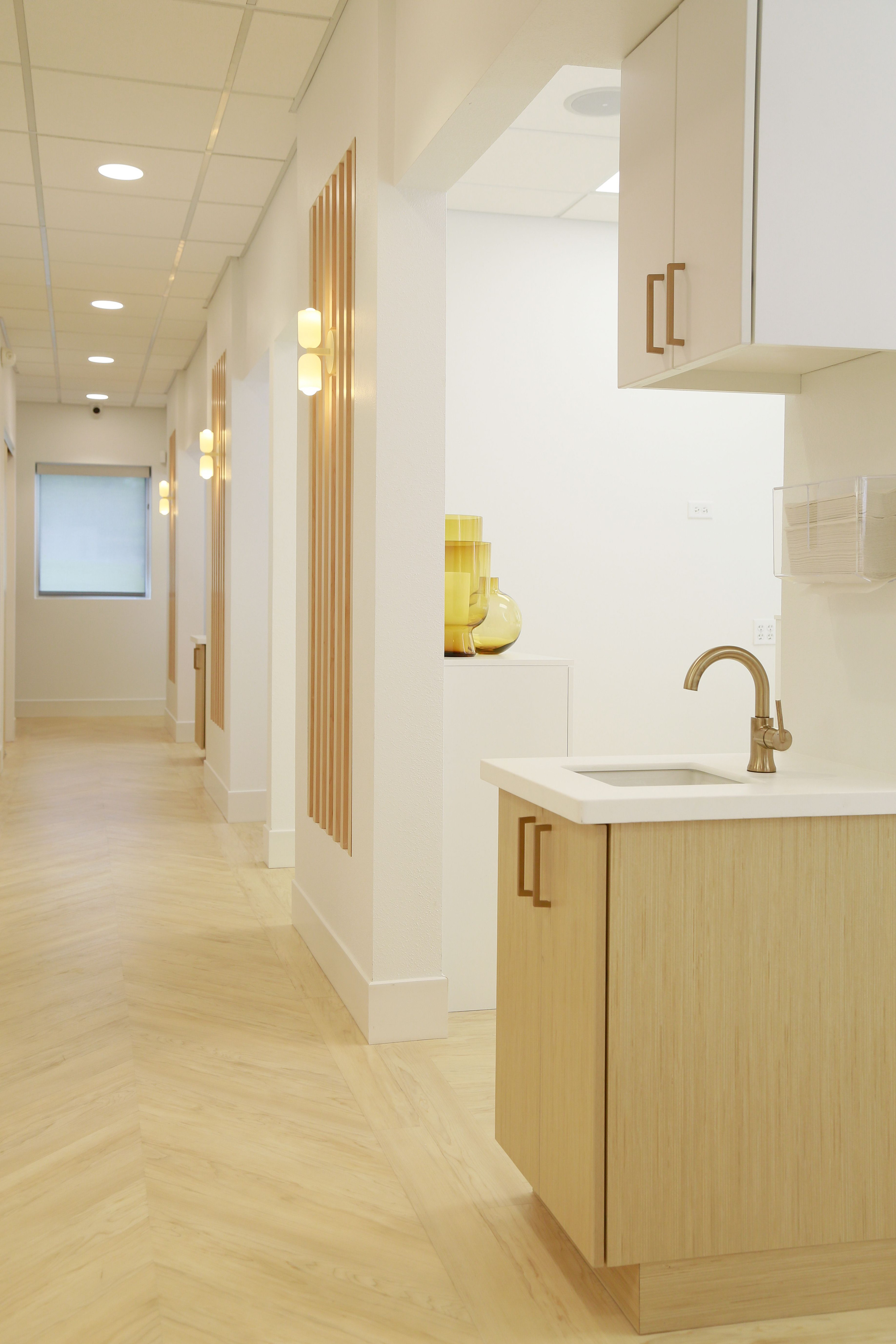 "We clean our surfaces with a strong antiviral, antibacterial, anti-tuberculocidal. It's so powerful that it can't touch bare skin. It sits 10 to 15 minutes, and it kills anything. The surfaces we use it on must be durable. It's nice knowing the Solid Surface in the operatory won't be damaged," says Dr. Tack
Wilsonart Takes Dentistry to a New Level
When it comes to state of mind, the high-end space Dr. Tack and Bishop have created is significant. She credits the incredible feedback she's gotten to the materials and the design.
"Walking in here every day is incredible! This is my dream space. Patients comment on how good it feels in here. It's important to the energy of the space that the materials we chose provide a high-end visual appeal and that the operatory surfaces themselves are clean and work well with the space," says Dr. Tack.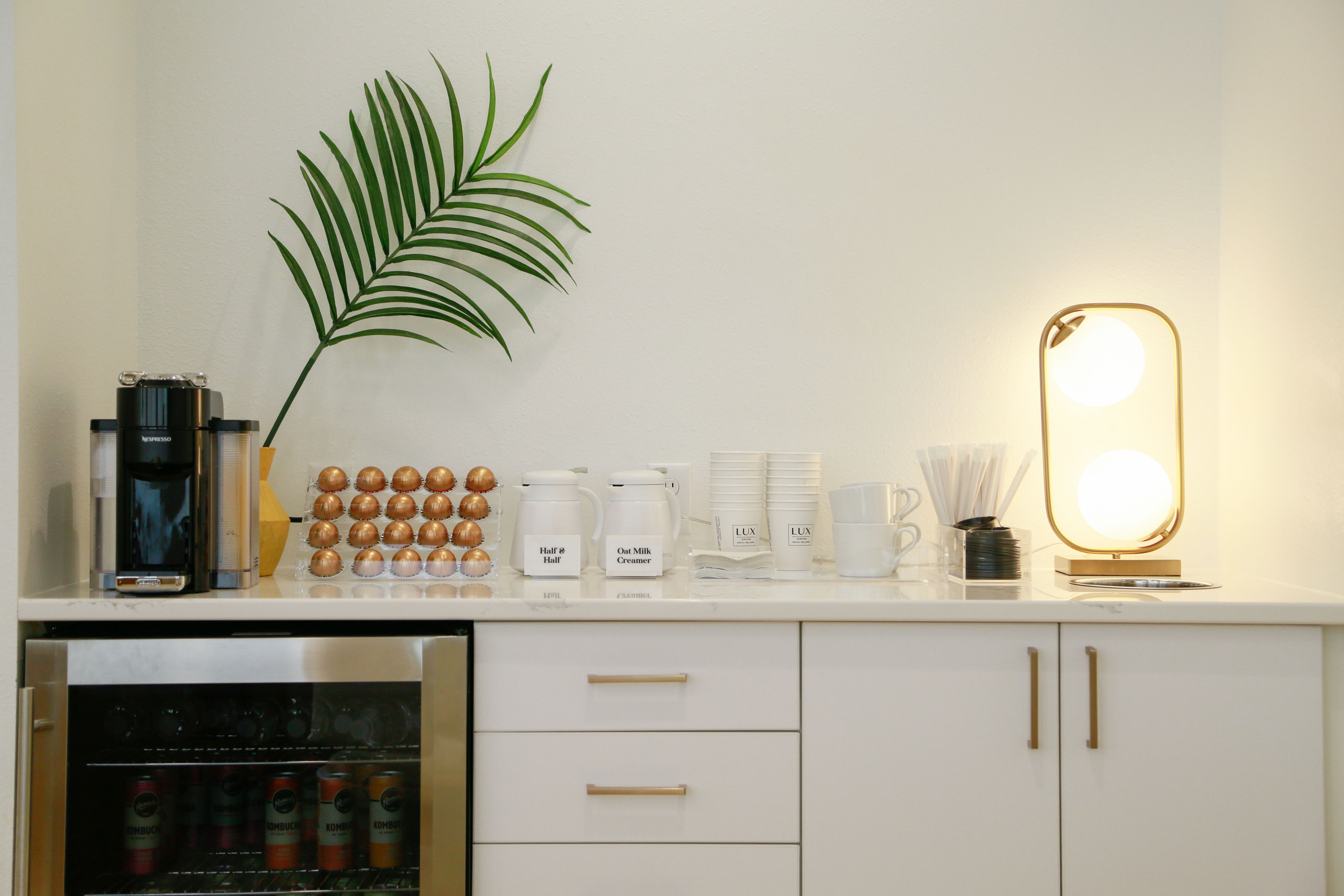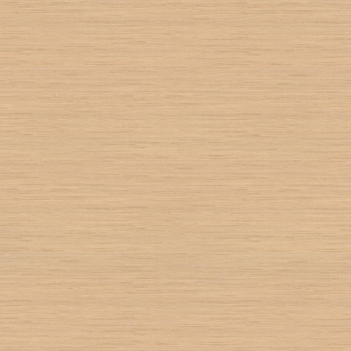 Wilsonart® HPL
Blond Echo
7939-18

Wilsonart® HPL
Designer White
D354-60 (Horizontal Applications)
D354-01 (Vertical Applications, Upper Cabinetry)

Wilsonart® Solid Surface
Designer White
D354SL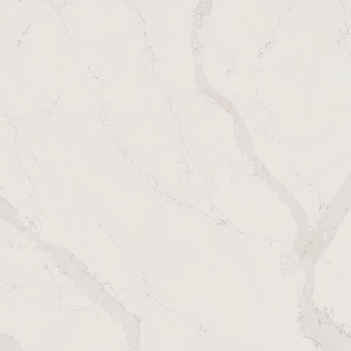 Wilsonart® Quartz
Calacatta Pastino
Q4058


The Wonder of Walnut.
Walnut TFL helps the kitchen, office space, primary and secondary bathrooms at Fairview Slopes speak a uniform design language. In the kitchen, white upper cabinets pair effortlessly with customized TFL panels that conceal appliances. During broad daylight, the nature-inspired glow of TFL wall panels results in an office that seldom needs indoor lighting.