Solid Surface Transforms Hospital
Wilsonart® Solid Surface Helps Add Comfort and Soul to New Philadelphia Hospital
When you're a healthcare center in the historic city of Philadelphia, PA, with the desire to create a new facility that combines patient comfort with state-of-the-art healthcare, where do you turn for surfaces that help you accomplish both and more? The Pavilion at the Hospital of the University of Pennsylvania was envisioned as a "beacon of hope" for the US and the city of Philadelphia. Opening in 2021, the hospital boasts 17 stories, 504 patient rooms, and 47 operating rooms.
A facility of that size requires extensive planning, and in 2017 a team of University of Pennsylvania executives, architects, designers, and a general contractor assembled to form the PennFIRST team. Furthermore, employees of existing University of Pennsylvania hospitals and clinics were also consulted to collaborate on design elements that would improve their ability to deliver patient care and create a better environment for patients, patient families, and for healthcare professionals. The building needed to feel like a hotel, have the ability to house the latest medical technology, and accomplish effective infection control.
To help accomplish their lofty goals, the PennFIRST team invited Wilsonart® representatives to be part of its Integrated Project Delivery team. Wilsonart collaborated with experienced healthcare interior designers from HDR in designing the hospital to ensure that every surface elevated the vision of the stakeholders on the PennFIRST team.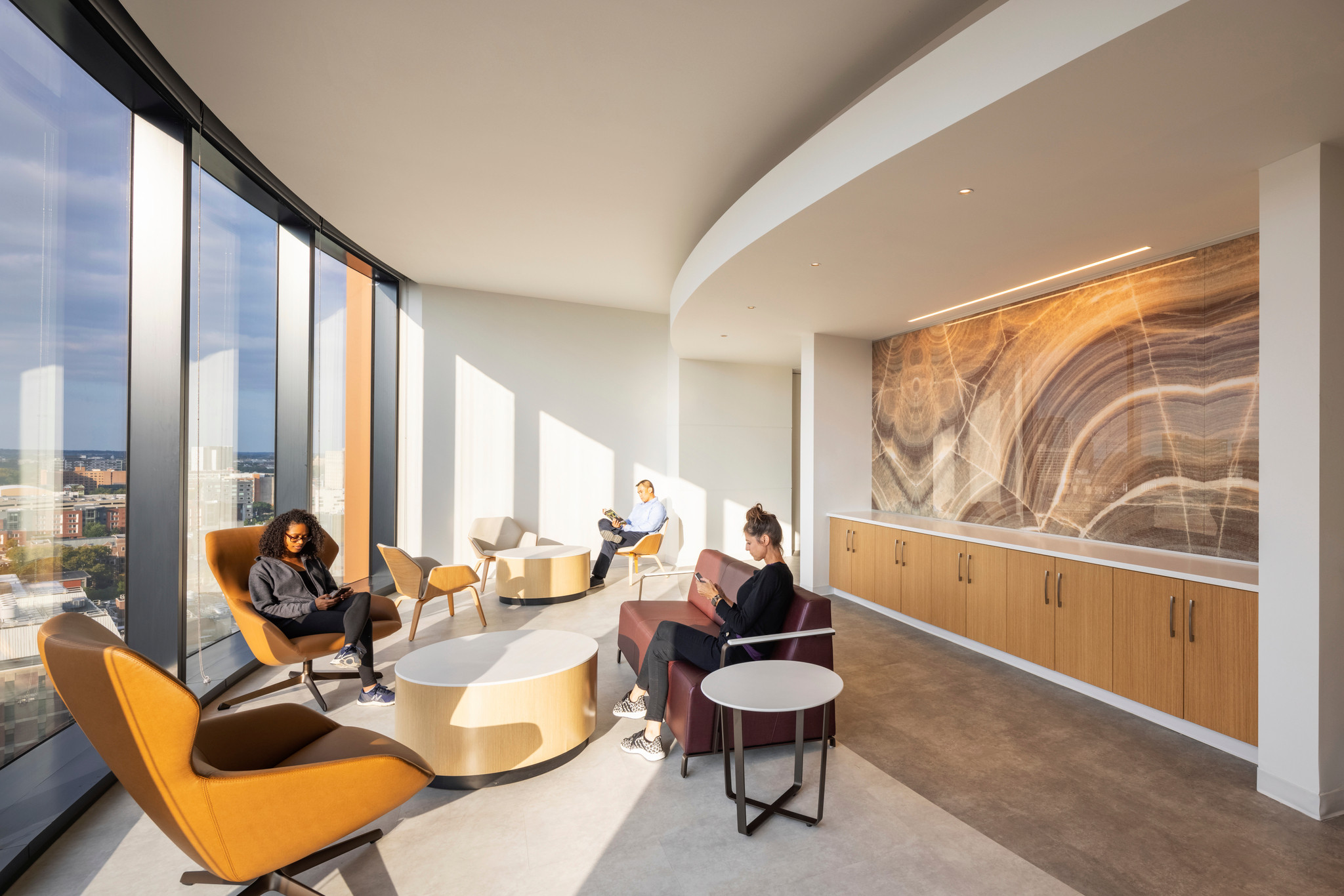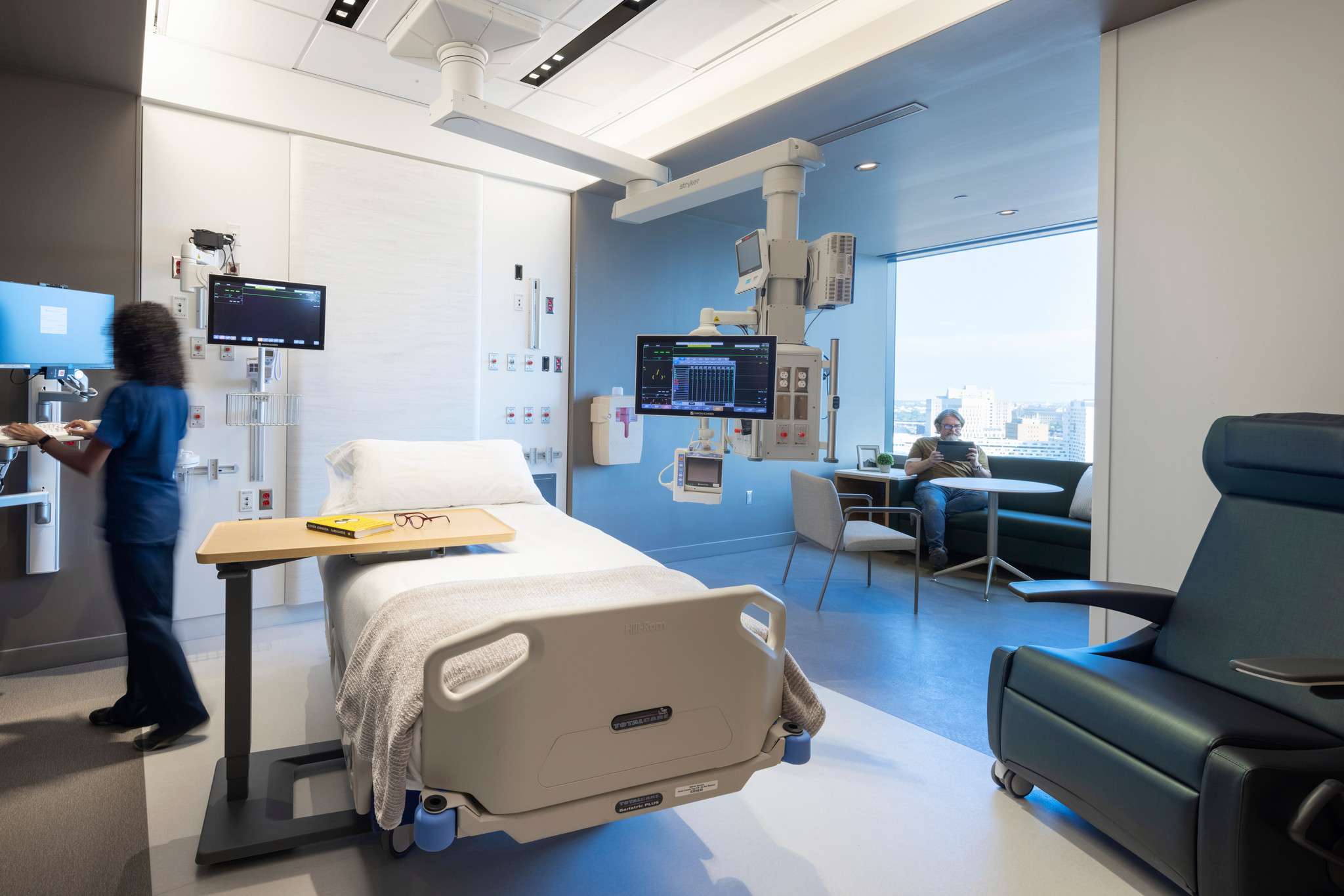 "The rooms needed to feel comfortable and take on a home-like vibe, be restorative, and yet be durable and easy to clean and disinfect. We were tasked with elevating a state-of-the-art facility with the best finishes available at an appropriate price point." -Bob Schaefer, Wilsonart Product Manager at Fessenden Hall, Inc.
Solid Surface Wide Sheets from Wilsonart® rise to meet critical project challenges
Besides the sheer size and scope of the Penn Pavilion project, the design and scope for the facility grew in terms of architectural complexity and scale as it progressed. Then, in 2020, the COVID-19 pandemic hit, delaying the project by three months. Yet, through it all, Wilsonart came through with Solid Surface Wide Sheets that helped make up for the Covid-related slowdown and saved the project time and money. Moreover, the Pavilion was able to have its grand opening on time on October 30, 2021.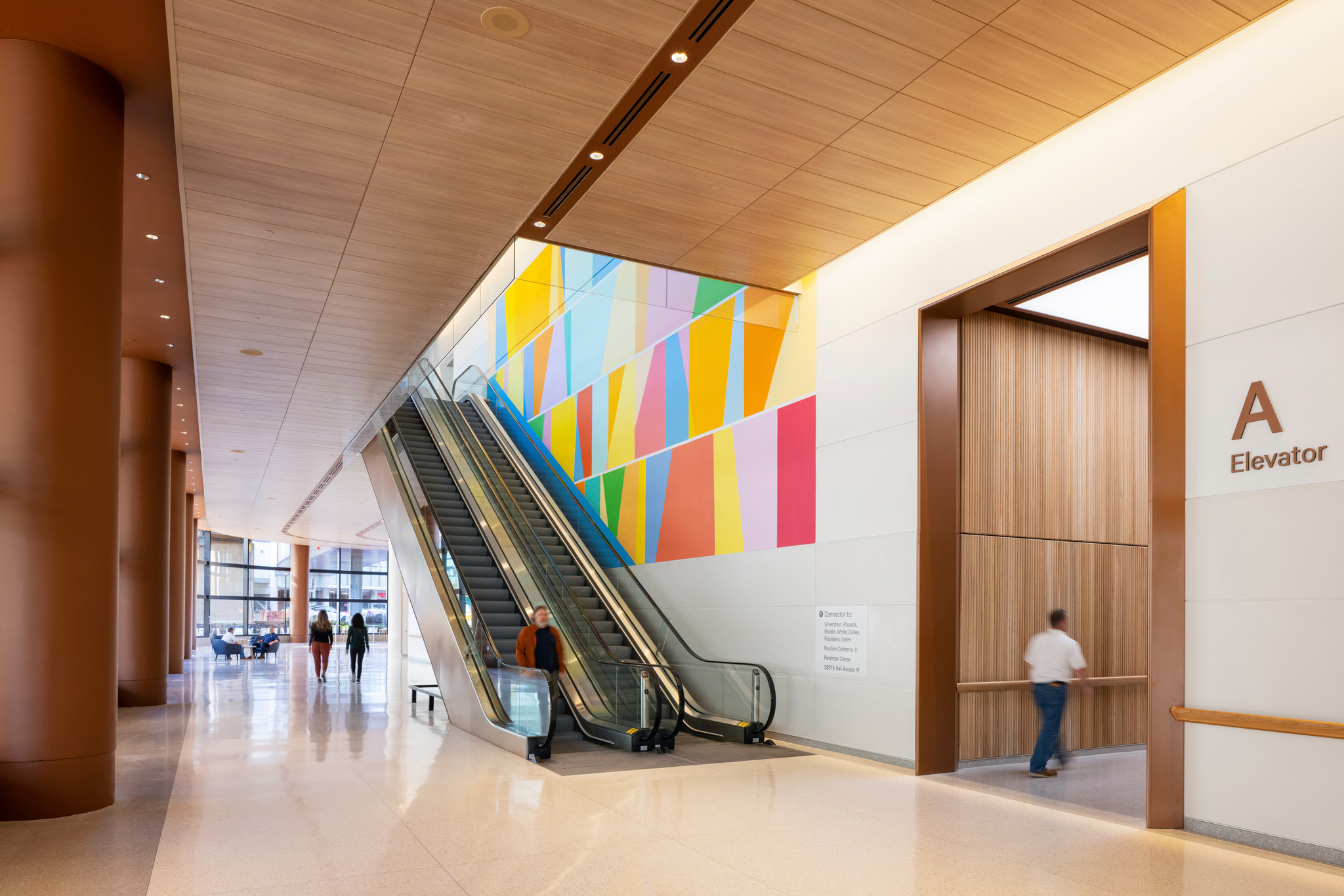 Wilsonart® Solid Surface unites infection control with architecturally pleasing designs
As a healthcare facility, the Pavilion needed surfaces that would help minimize infection control issues. Wilsonart® Solid Surface fits that need. It stands up to repeated cleaning and disinfection. Wilsonart® Solid Surface can be used on multiple applications throughout the facility, from countertops to sinks to cabinets, walls, and more. In addition to Solid Surface, Wilsonart also has a broad portfolio of engineered surfaces in myriad design options, including designs that mimic the look of natural stone and woodgrain.
As a result, Wilsonart surfaces, particularly Solid Surface, were installed to complete the project. In fact, over 300,000 sq. ft. of Wilsonart® Solid Surface appear throughout the facility, from patient rooms to staff areas, and on furniture. Using Solid Surface on the furniture helped create a cohesive style throughout the hospital. Wilsonart® Solid Surface designs appear on patient room headwalls and more than 1,300 Solid Surface sinks are key features in patient bathrooms. In addition, over 1,500 Wilsonart® Laminate sheets also feature as the standard casework finish to complete the coordinated design of the facility, including on cabinetry. Wilsonart Laminate provides a stunning result that's suitable for even the largest commercial projects, and at a reasonable price point.
For a clean, contemporary look, Wilsonart® Solid Surface in Designer White (D354SL) was used for countertops and wall protection/wainscoting in corridors, desks, and showers. The custom headwalls and handwashing counters in patient rooms were
made possible with custom-curated SKUs Iceland Fog (9907SS) and Hamilton (9906SS), respectively. Frosty White Mirage (1573MG) was the perfect solution for countertops in staff areas.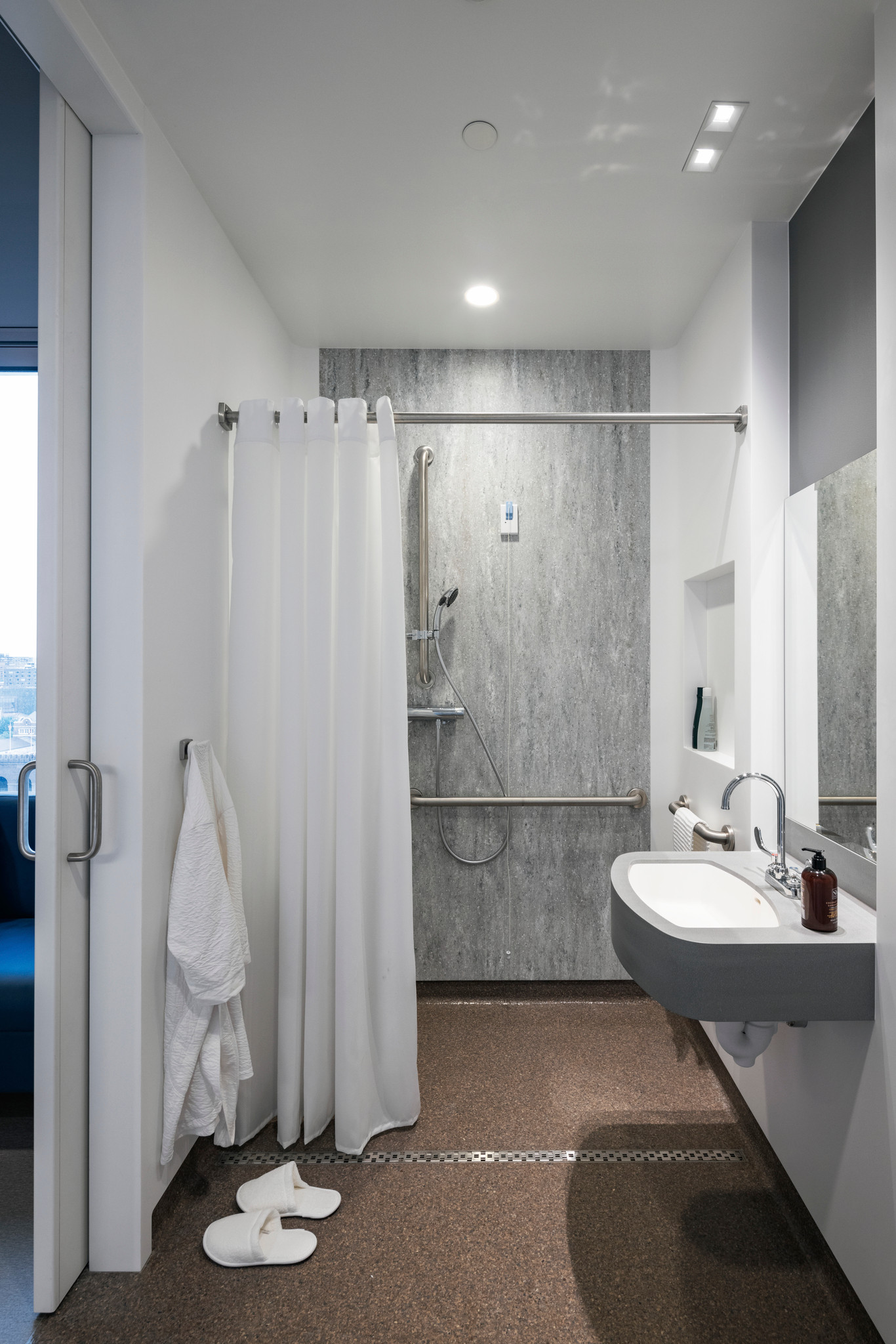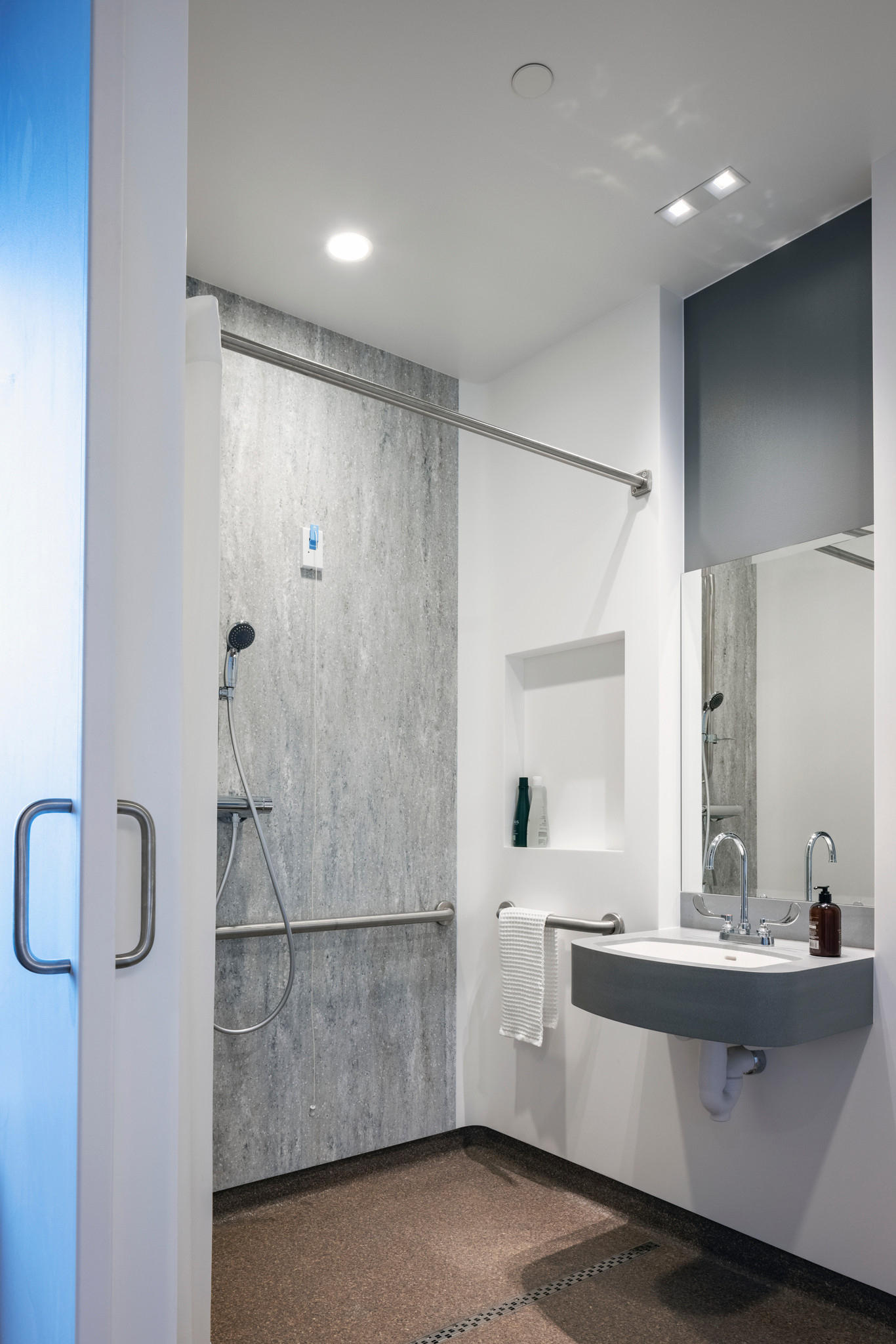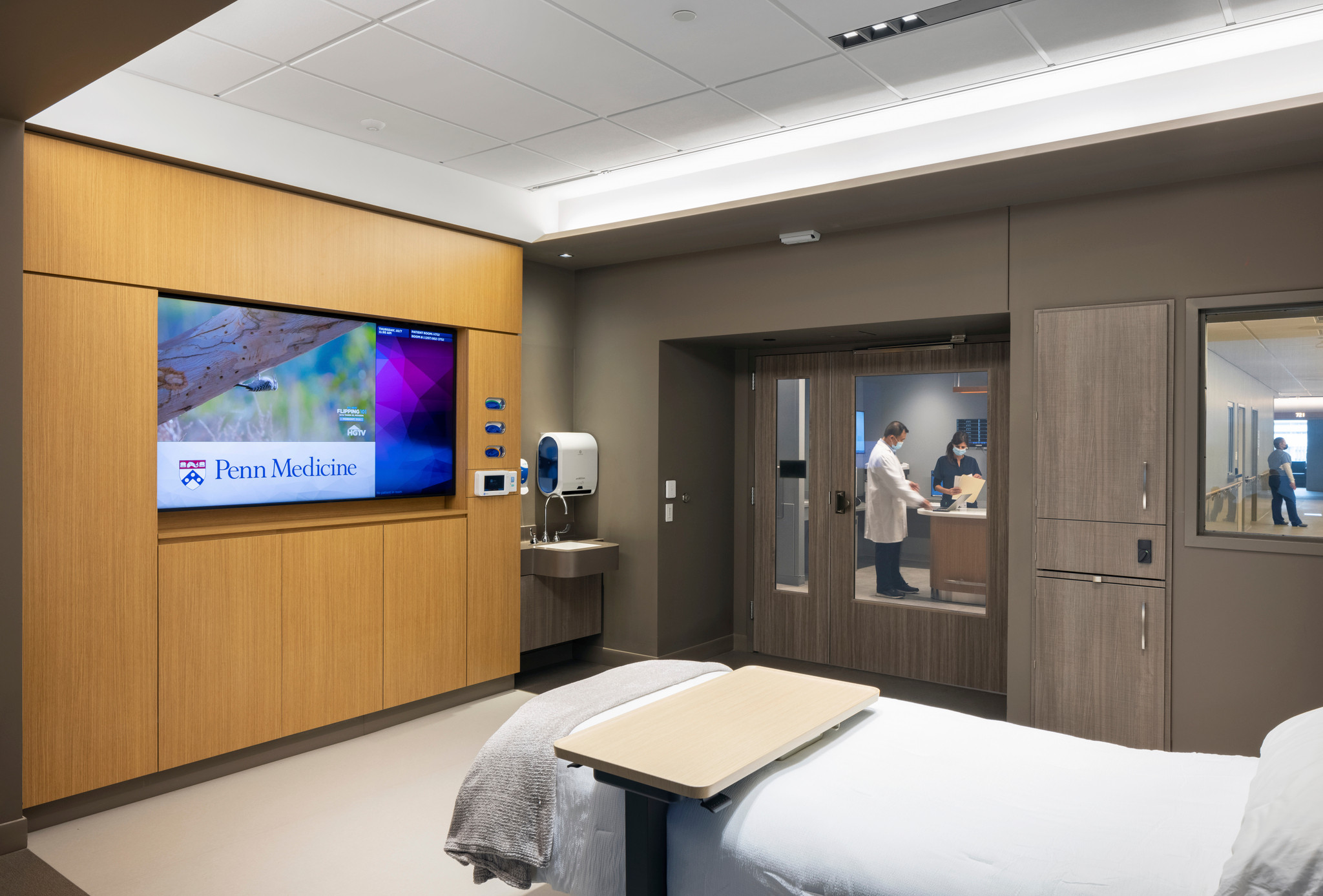 Innovative materials help deliver a medical and architectural marvel on par with renowned hospitals
After years of collaboration and planning, the Penn Pavilion is considered by many to be the perfect synthesis of unparalleled care and thoughtful design. Wilsonart is proud to have played a role. The facility is the largest capital project for the University of Pennsylvania and the second largest hospital in the United States. The facility employs dedicated healthcare professionals and welcomes patients and their families from across the globe. Thanks, in part, to the use of Wilsonart® Solid Surface, that combines innovative materials and conscious craftsmanship, the Penn Pavilion is the largest hospital in the US to achieve Leadership in Energy and Environmental Design (LEED) Gold certification.
"This hospital will now be the standard to which other hospitals are built, largely due to its innovation and design. It was a pleasure and honor to be involved in the Pavilion project, which will be a beacon of hope for so many people; not just the patients that need care, but for everyone involved in the build, the employees, and the community." -Bob Schaefer, Wilsonart Product Manager at Fessenden Hall, Inc. WILSONART&reg Solid Surface
Designer White.
D354SL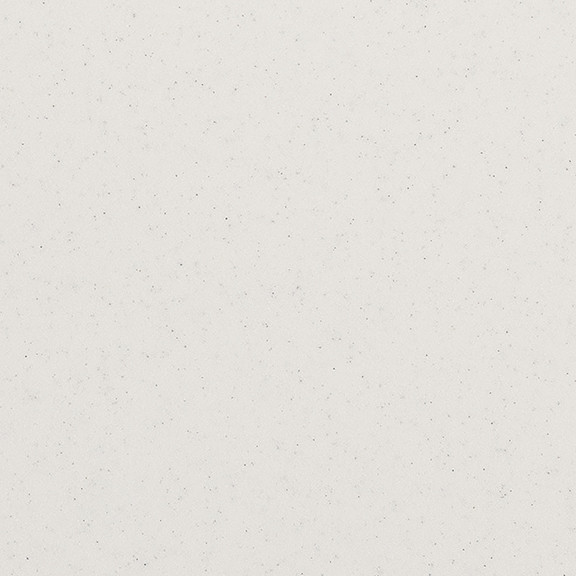 WILSONART&reg Solid Surface
Frosty White Mirage.
1573MG