Beyond the Horizontal: HPL and Traceless™ Laminates for Vertical Surfaces
Trends in biophilic architecture are inspiring designers to think about vertical surfaces in new ways. The preference for serene, nature-imbued areas in restaurants, hotels, healthcare settings, and offices encompasses all aspects of the commercial space, from countertops to walls, cabinets, room dividers, and other features. The new High Pressure Laminate (HPL) and Traceless Laminate surfaces from Wilsonart® enable designers to create stress-free environments using precisely engineered materials that echo nature while providing the durability and value commercial spaces require.
Walls and Cabinetry as Beautiful as They Are Durable
Commercial spaces require materials that can stand up to heavy use, and our durable surfaces are as stylish as they are durable. HPL is more popular than ever thanks to advanced technology that produces beautiful, tactile surfaces that feel luxurious and are almost indistinguishable from the natural materials many are designed to imitate, such as stone and wood. Designers often choose HPL surfaces that mimic oak, walnut, cypress, teak and other popular woods for walls and cabinetry. Surfaces that echo stone are perfect for backsplashes that can blend seamlessly into countertops. And, they can be complemented with edging—bullnose, pencil, crescent, waterfall, custom—that match the material flawlessly, or surfaces in vertical areas not as vulnerable to wear.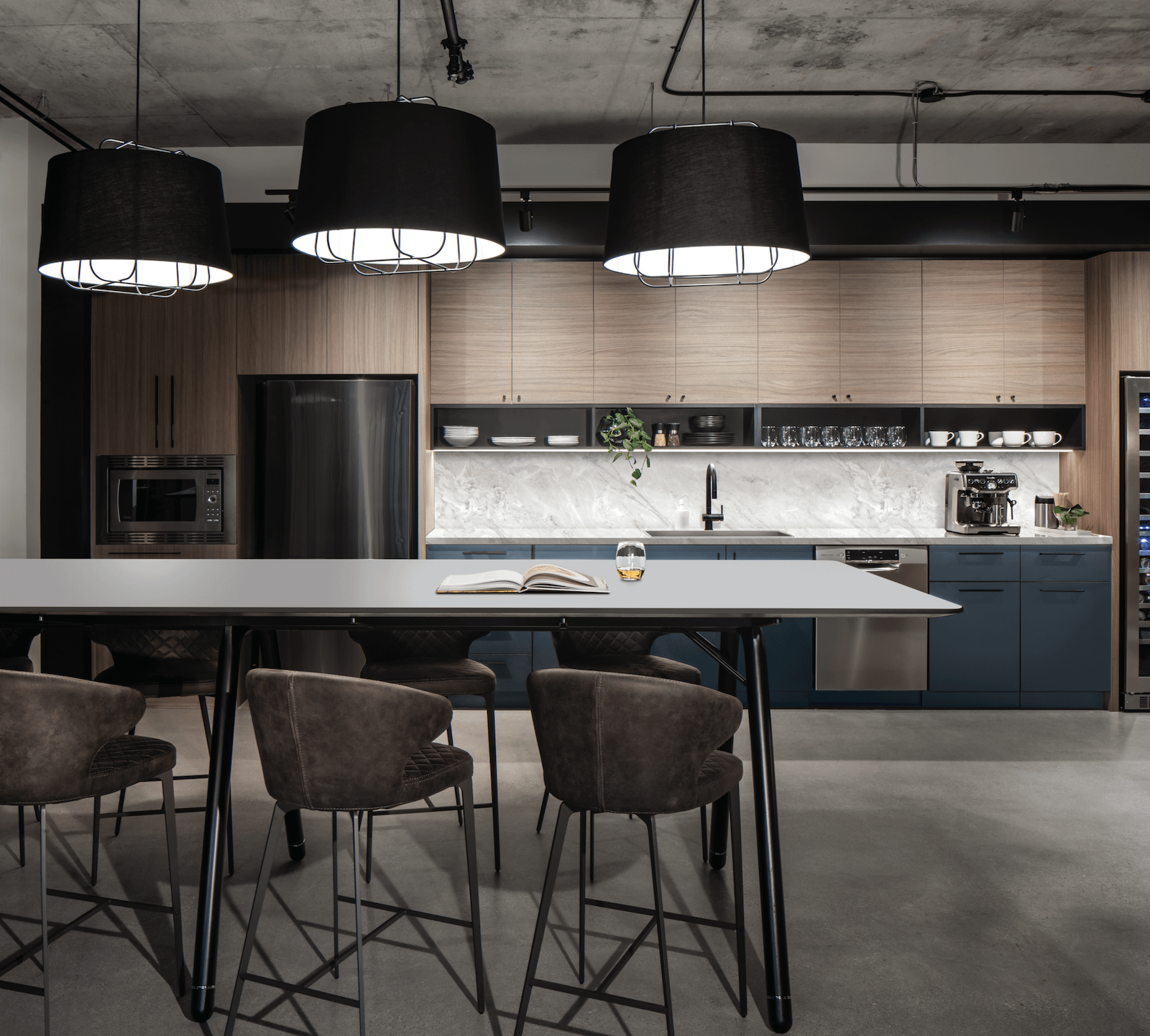 This office kitchen features an ideal marriage of materials from the Wilsonart® wood, stone, and Traceless™ laminate collections. The upper cabinets are Hartley Walnut. The velvety hued, ultra-matte lower cabinets are Traceless Nile Velvet. Both are perfectly balanced by the softly veined, Italianate Ice Mist backsplash and countertops and the Icecap Velvet tabletop.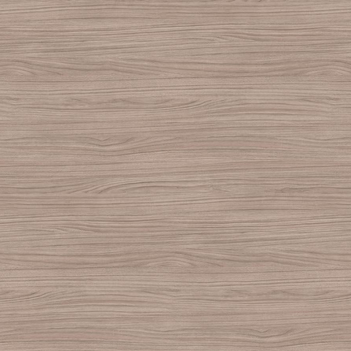 WILSONART® HPL
Hartley Walnut
17017

WILSONART&reg Traceless™
Nile Velvet
15515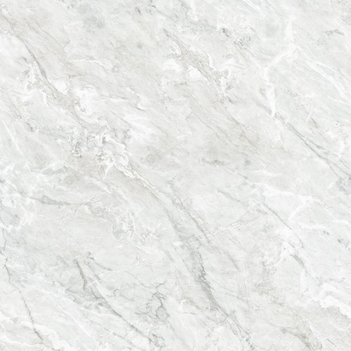 WILSONART&reg HPL
Ice Mist
5045

WILSONART&reg Traceless™
Icecap Velvet
15516
Wall Panels Add Warmth to High-Use Spaces
High Pressure Laminate is also a popular choice for wall panels in high-traffic rooms, common areas, and corridors. With so many colors and textures to choose from, HPL surfaces give commercial designers endless options for vertical applications that are not only beautiful and durable, but also stand up to the harsh disinfectants used to sanitize surfaces in hospitals, lobbies, waiting areas, and other sensitive spaces.
This lobby showcases wall panels of Cumberland Walnut that complement the textured back wall in Handspun Chestnut. The vertical slats in the foreground are fabricated of Traceless™ Nile Velvet, a velvety-smooth and hard-wearing surface in a commanding color that pulls together the room décor. Overall, the look is harmonious and cohesive, evoking a sense of calm despite the use of materials that in and of themselves might seem more industrial.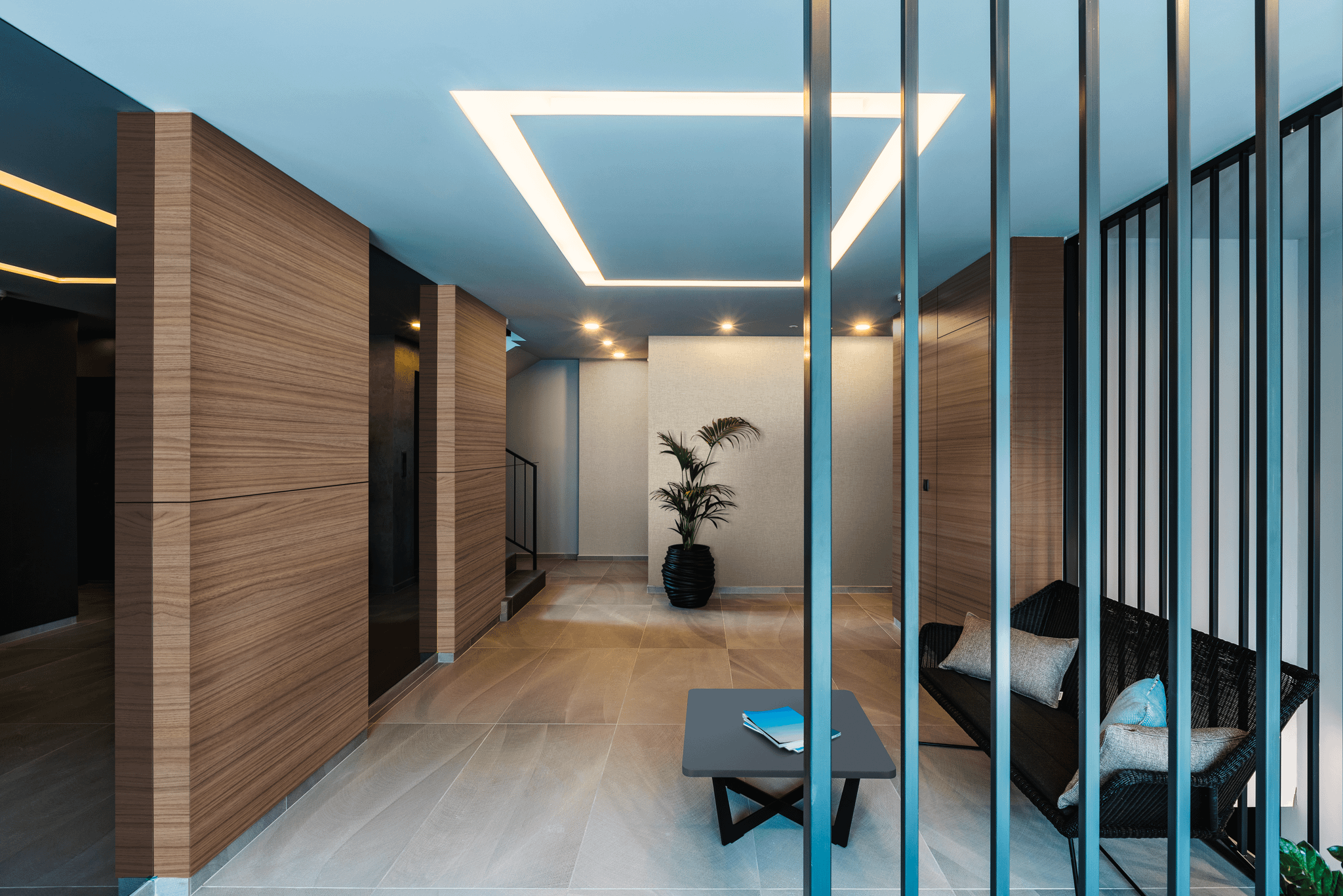 Creating Holistic Spaces in Line With Today's Commercial Design Trends
The calming aesthetic people have begun gravitating toward in commercial areas—"resi-mercial" design—can be directly attributed to a preference for serene, stress-free spaces inspired by nature and suffused with surfaces, textures, and finishes that bring the outdoors in.
Sanctuary Spaces are popular in commercial buildings, too, as people seek hybrid zones to work, collaborate, or simply unwind. The collaboration spaces pictured here are all about clean lines, warm colors, and minimalist design. Designers looking for unique ways to divide rooms can choose from an endless array of HPL and Traceless™ laminate surfaces that can be cut to fit all types of architectural elements.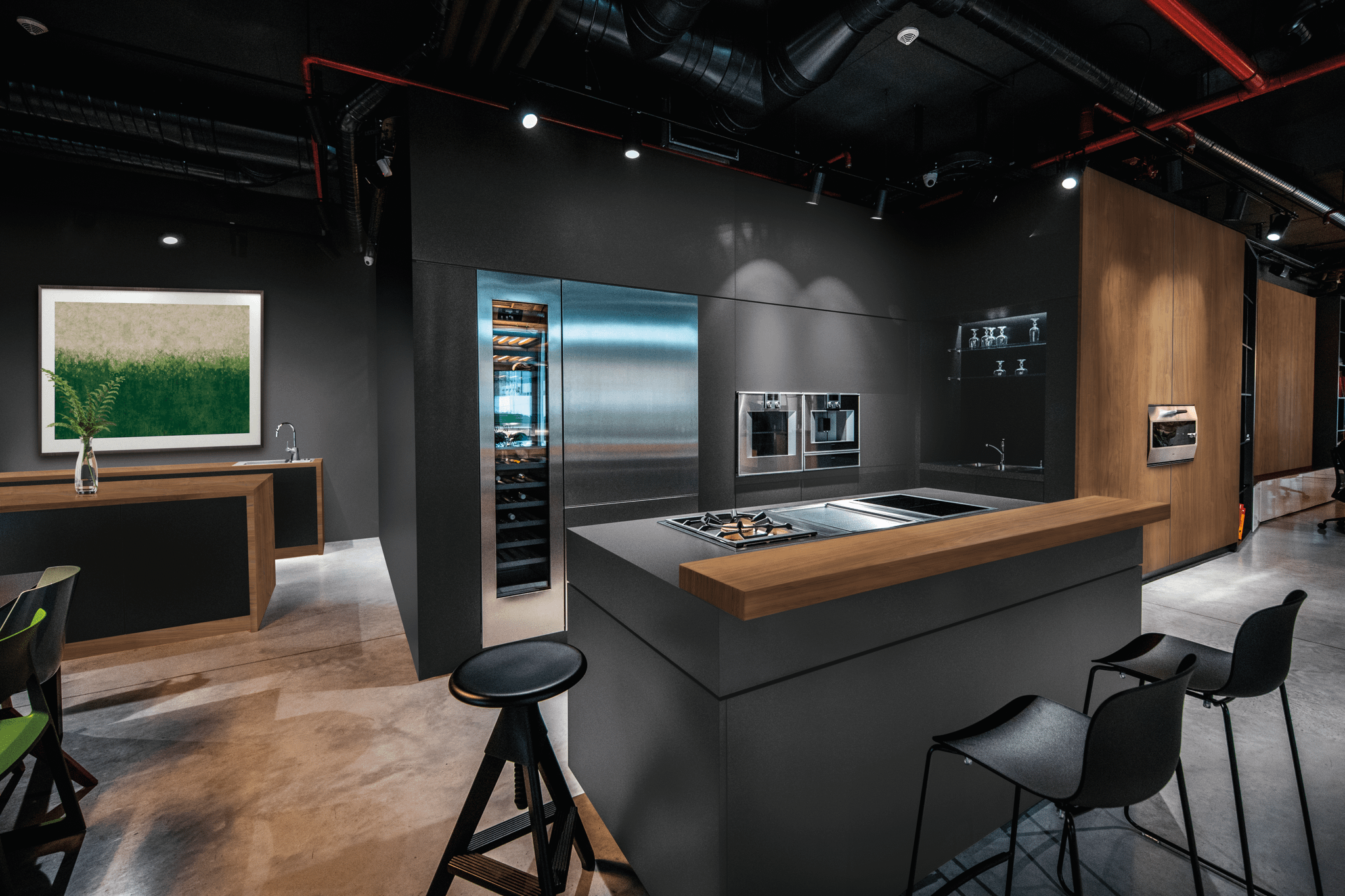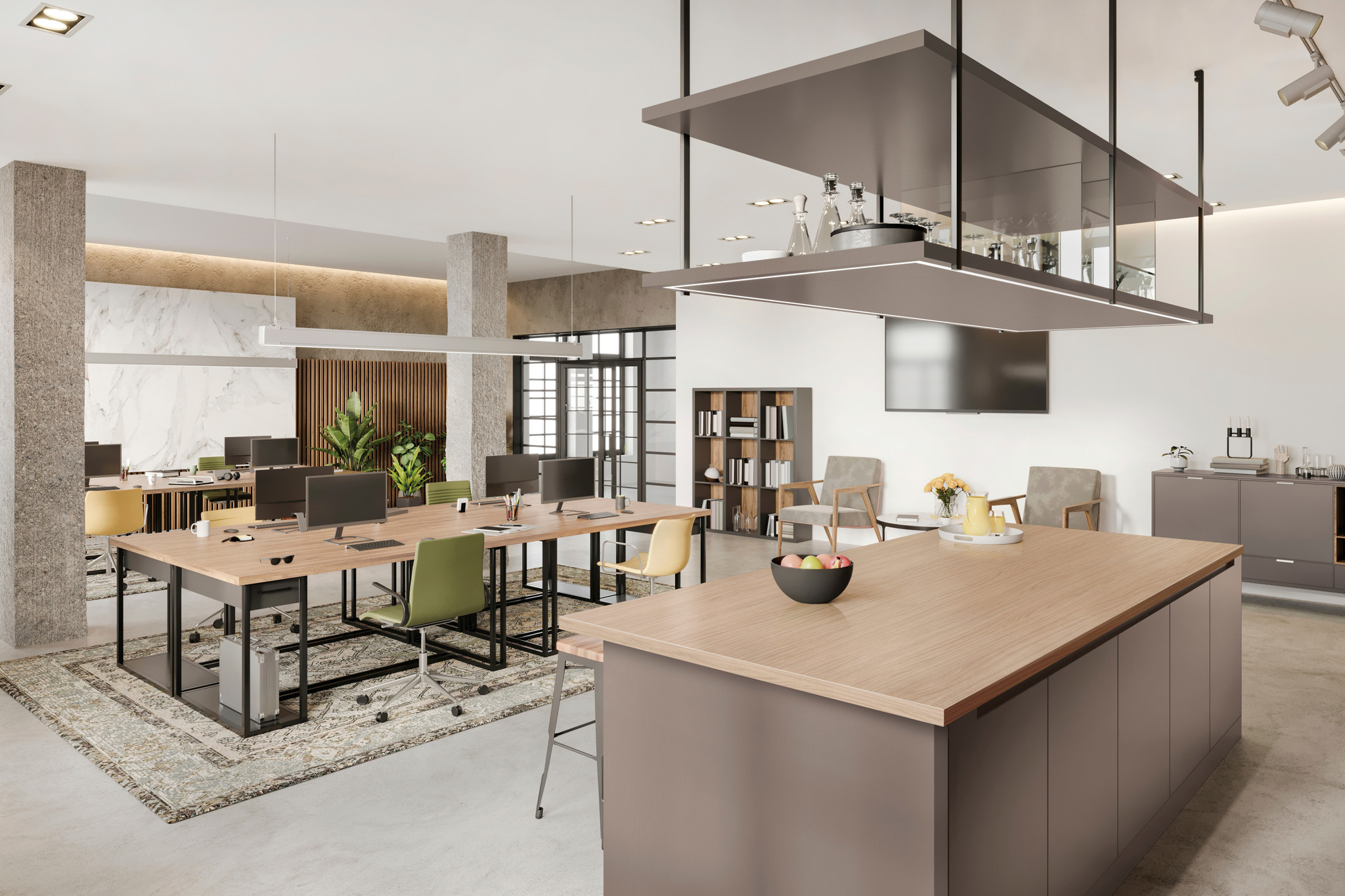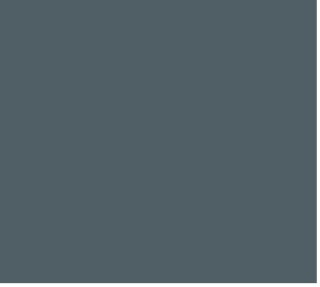 WILSONART® HPL
Graphite
10657
WILSONART&reg HPL
Continental Walnut
8232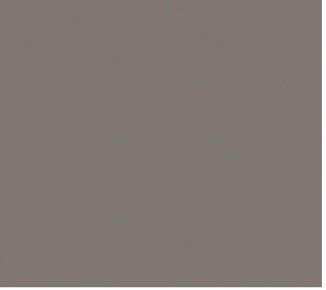 WILSONART&reg HPL
Pearl Alloy.
5057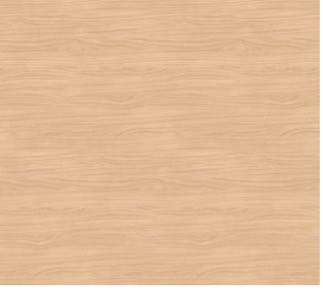 WILSONART&reg HPL
Raleigh Walnut.
1705
Mixing It Up for Maximum Impact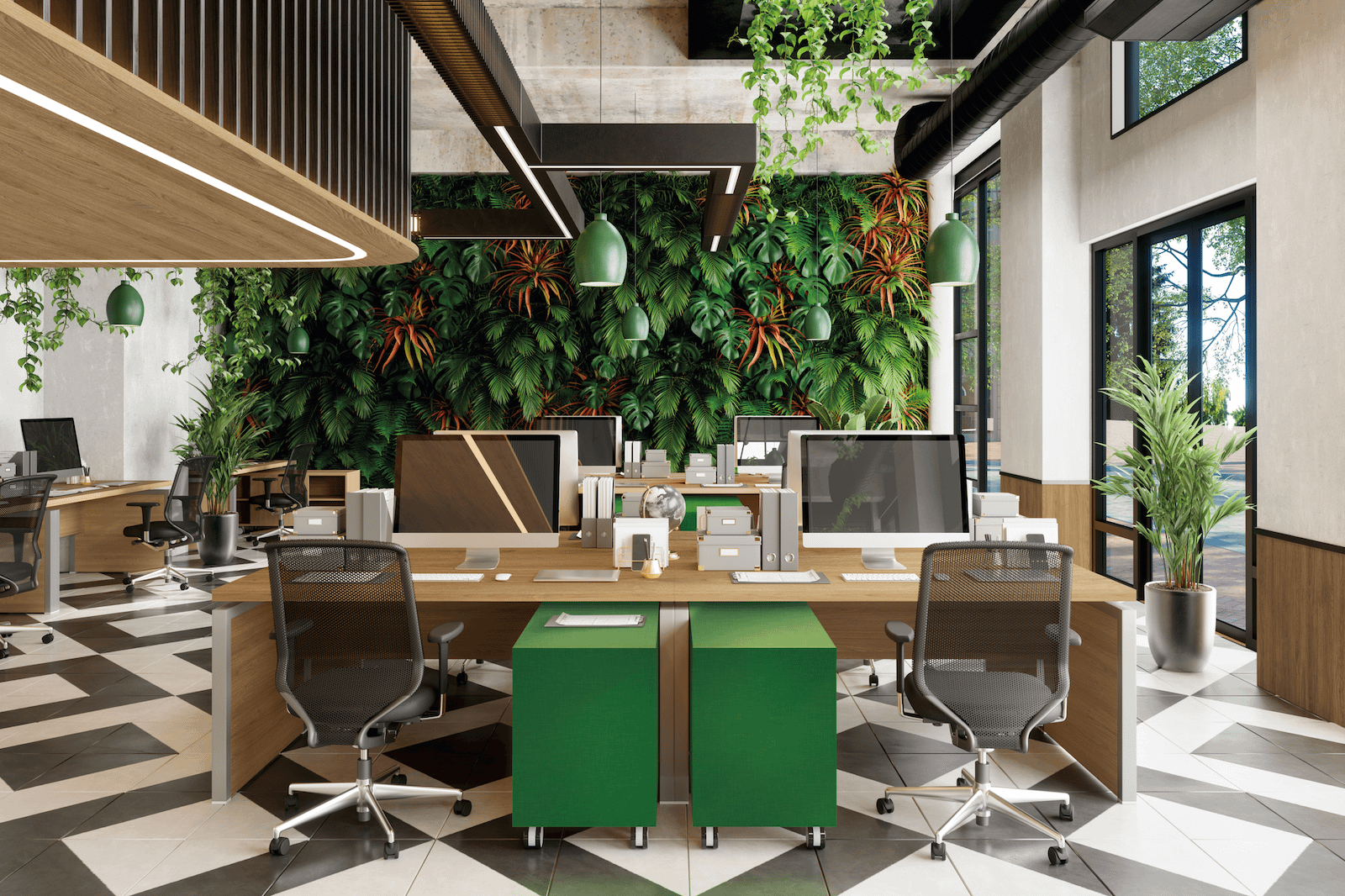 Bringing the outdoors in can also be an excellent way to create a commercial space that is both calming and energizing without seeming disharmonious. The sheer variety of High Pressure Laminate and Traceless™ surfaces—Wilsonart® features hundreds of styles in all manner of colors, finishes, and textures—are a designer's playground.
This office space features a mesmerizing mix of a high-energy design with a soul-soothing vertical plant wall, and work surfaces and wall panels that echo the trees seen just outside the glass doors. The vibrant greens of the vegetation and side tables meld with the light wood tones in the Jubilee Oak desks and HPL wainscotting for a home/work vibe as conducive to creative collaboration as it is to roll-up-your-sleeves deadlines.
Endless Options and Inspiration for Commercial Designers
All in all, the definitive style, durability, and versatility of Wilsonart® High Pressure Laminate and Traceless™ surfaces give designers endless options with which to bring designs to life, from spaces that lean toward industrial to those with an exuberant atmosphere or a calming, spa-like elegance. They are beautiful, durable, and easy to clean. And, for those seeking sustainable options, Wilsonart HPL is engineered with 23% Post-Consumer Recycled Content on average— 2x more other leading brands. Wilsonart HPL is also the first product in the laminate category to earn a Declare label from the International Living Future Institute with several product types being classified as Living Building Challenge Red List approved.
Bring sustainable design ideas to life
Wilsonart® offers stylish, durable materials that fit sustainable lifestyle needs. Our collections serve as the foundation for inspiration that will delight your clients with the superior performance you expect from engineered surfaces. We're here to help you find the right product for any project and on any budget.
Learn more about the efforts Wilsonart has in place to minimize waste and see how you can bring sustainability into your next project.