Technology and Advanced Design Elevate Van Life on the Road and Off.
Inspired by their own love of the open road and adventure, three brothers from Chicago united their passions for engineering, technology, and interior design with one goal in mind – bringing modern Scandinavian-inspired interiors to the #vanlife nomad lifestyle. Founded in 2020 by Szymon Gluc and his two brothers, Highland Vans is a standard and custom van conversion company based outside of Chicago in Elk Grove Village, IL. The company's unique, state-of-the-art approach to creating the vans is unprecedented in their industry. Moreover, the brothers' goals for crafting interiors that could pass for a luxury European apartment and withstand the rigors of travel makes Highland Vans the perfect match to partner with Wilsonart® on furniture, cabinets, countertops.
"We really had to think about engineering and design at the same time. Our inspiration behind the look is how can it be a modern style that's very elegant and beautiful, but at the same time, the structure of it is very rugged and durable and reflects the lifestyle of someone that lives that van life?"
— Szymon Gluc, Principal Design Director at Highland Vans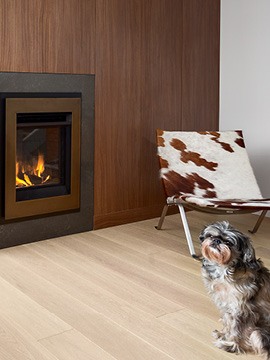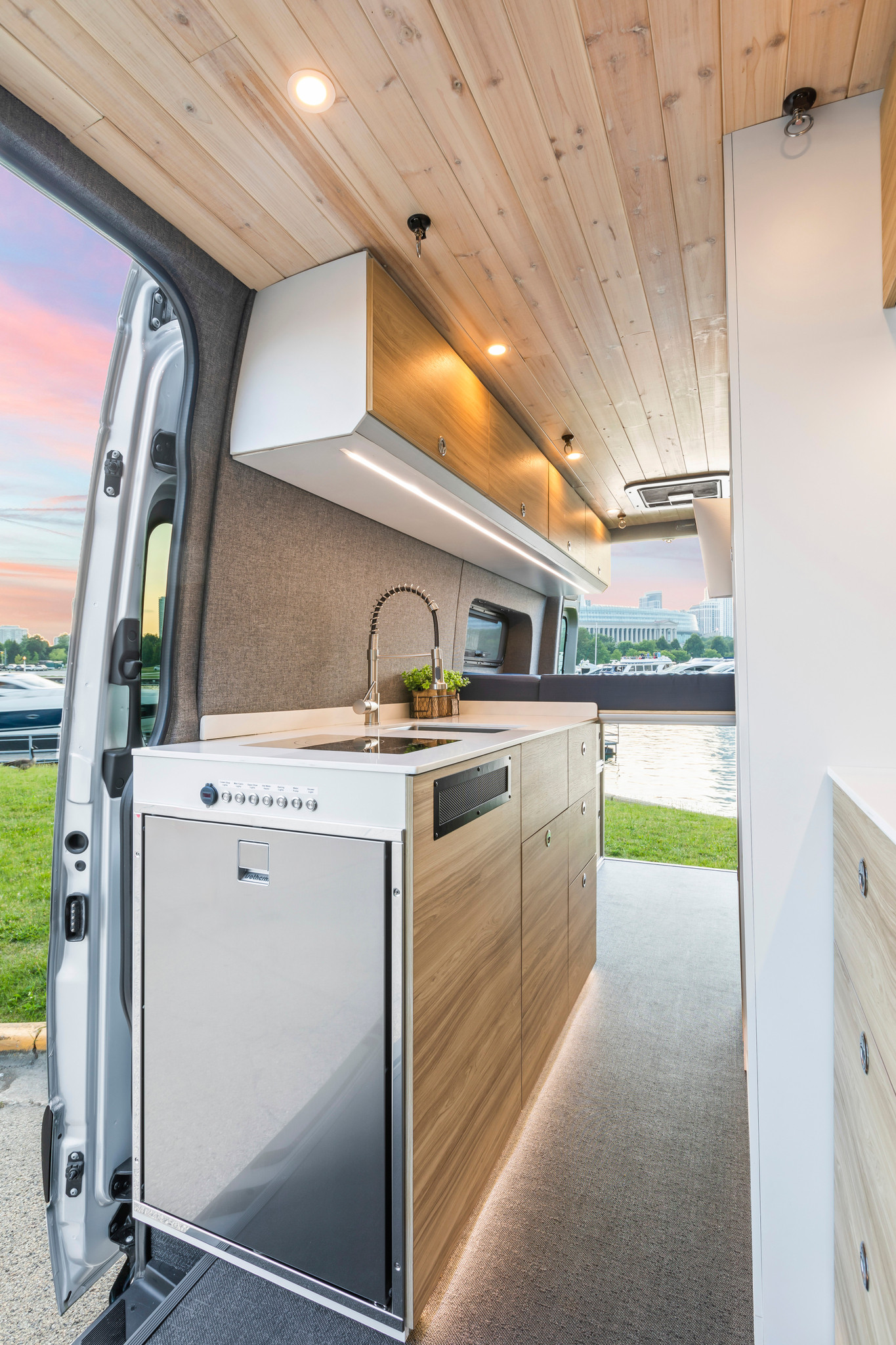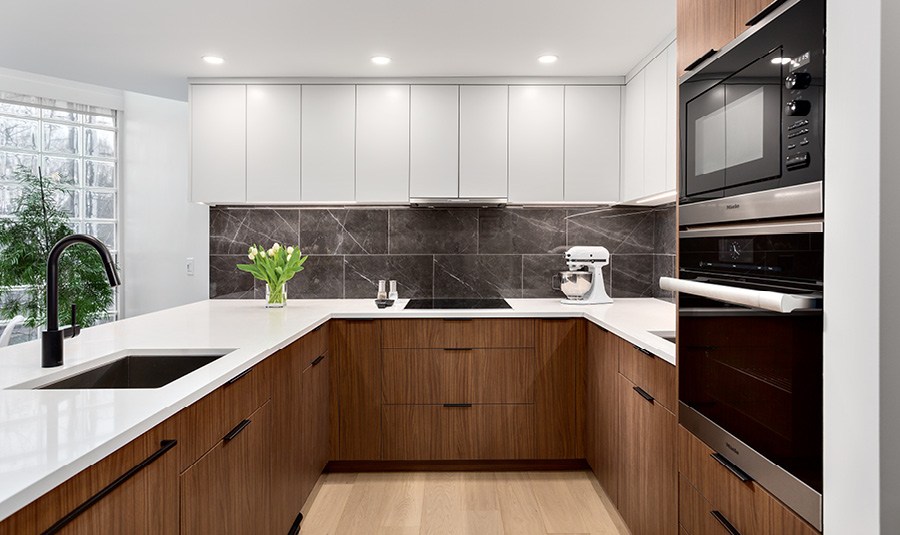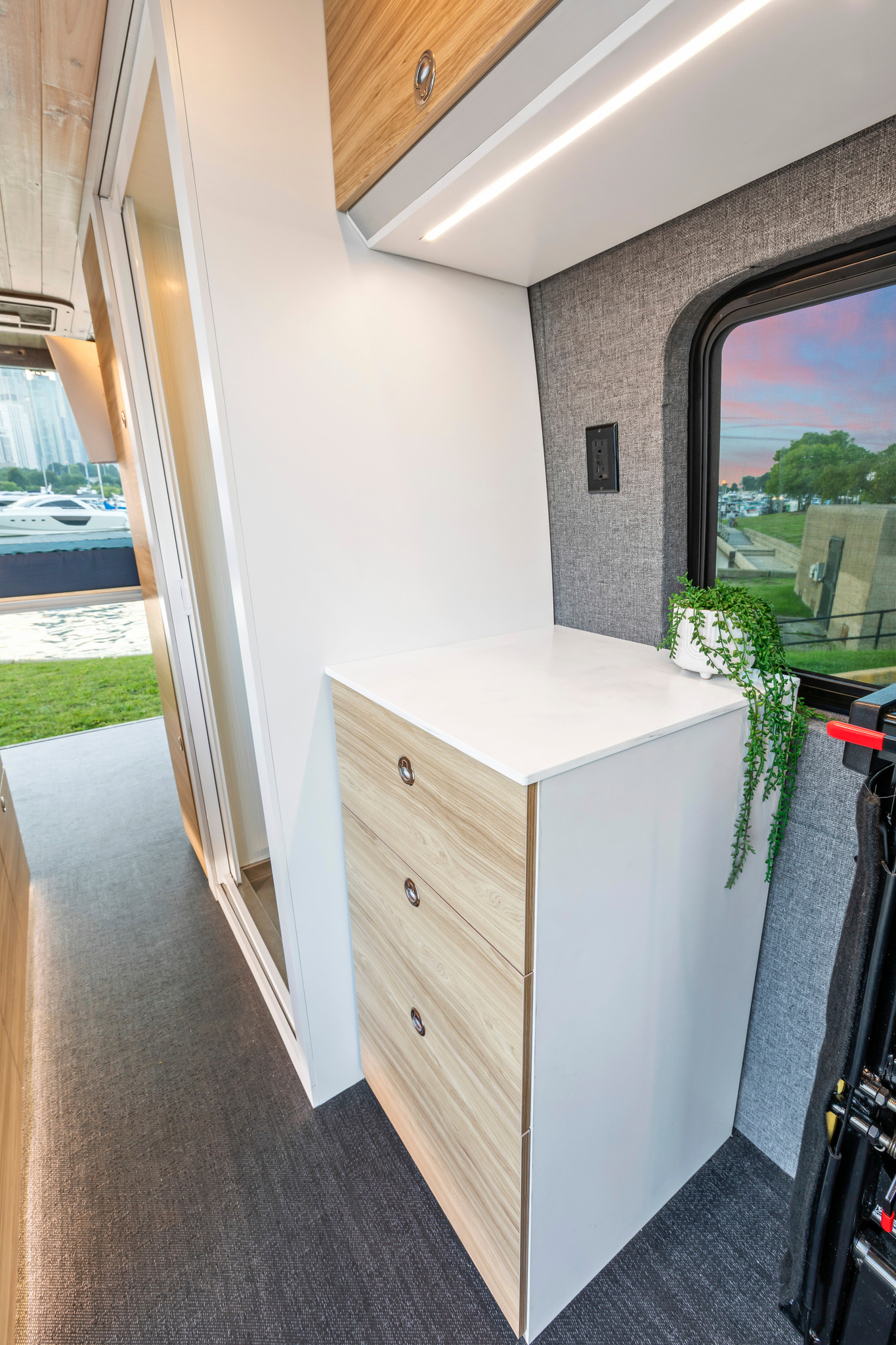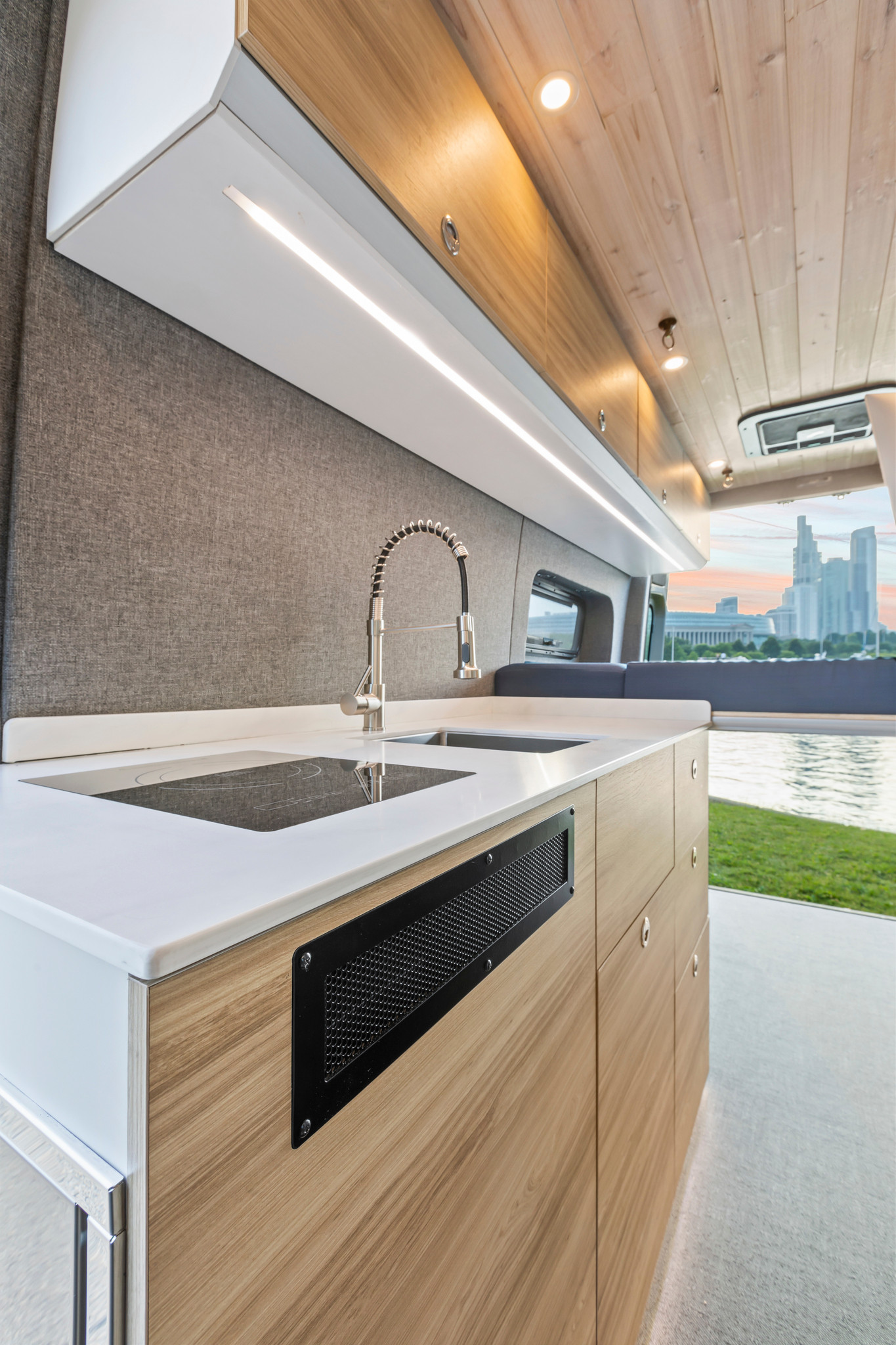 The challenge: fitting everything into a small space and finding materials that combine beauty, simplicity and durability
With any van to RV conversion, the main challenges are always going to be:
How to fit everything into such a small space.

How to source materials and manufacture the interiors to withstand constant movement, being on unpaved roads, and entirely offroad.
Highland Vans uses advanced engineering and the latest technology in computer-aided design to plan everything out and ensure each element will fit. Everything must be considered, including elements and systems that customers don't see, e.g., the electrical and plumbing infrastructure. It's not enough to look like a home-away-from-home. Everything must be functional and easy to maintain. After all, the vans are essentially homes on wheels for people who love to camp but don't want a gigantic RV, and for people who live in their van year-round.
"Not only is it designed, but it's also engineered to withstand different elements and constant movement."
— Szymon Gluc
Therefore, things that are behind walls in your own stick-built home might be hidden behind cabinetry that's fabricated and skinned to look like an elegant cupboard in a luxury urban condo. Yet, the surfaces must also be able to withstand conditions similar to enduring a constant earthquake. And that's where Wilsonart's engineered surfaces are ideal.
The solution: Wilsonart® HPL and Solid Surface
Like Highland Vans, Wilsonart® engineered surfaces combine beauty and performance to provide a wealth of options for commercial projects. From High Pressure Laminate (HPL) to Solid Surface, Wilsonart surfaces are highly durable and able to withstand being part of a home on the road. Plus, they're easy to maintain and have the stunning visual appeal that snaps into the modern modular design aesthetics of Highland Vans.
We have found Wilsonart® HPL to be the perfect solution for the furniture side panels and the furniture face panels in White and Fawn Cypress, respectively. Highland Vans chose Wilsonart's HPL because the engineered surface is hard-wearing and made from sustainable materials using on average 23% post-consumer recycled content, which is 2X other leading laminate brands. This material is easy to work with and is very durable. The contrast of the white with the nature-inspired woodgrain of Fawn Cypress completes the simple refinement and clean lines of the van's overall interior.
For the countertops, the company installed Wilsonart® Solid Surface in Moon Geyser. Solid Surface has the look of authentic marble. However, unlike natural stone, it's durable, impact resistant, non-porous, and easy to clean and maintain for lasting beauty.
"The biggest takeaway for me at least is that our van, by partnering with Wilsonart, we were able to achieve this modern, very clean, very Scandinavian look. Using Wilsonart products allows Highland Vans to make a beautiful van."
— Szymon Gluc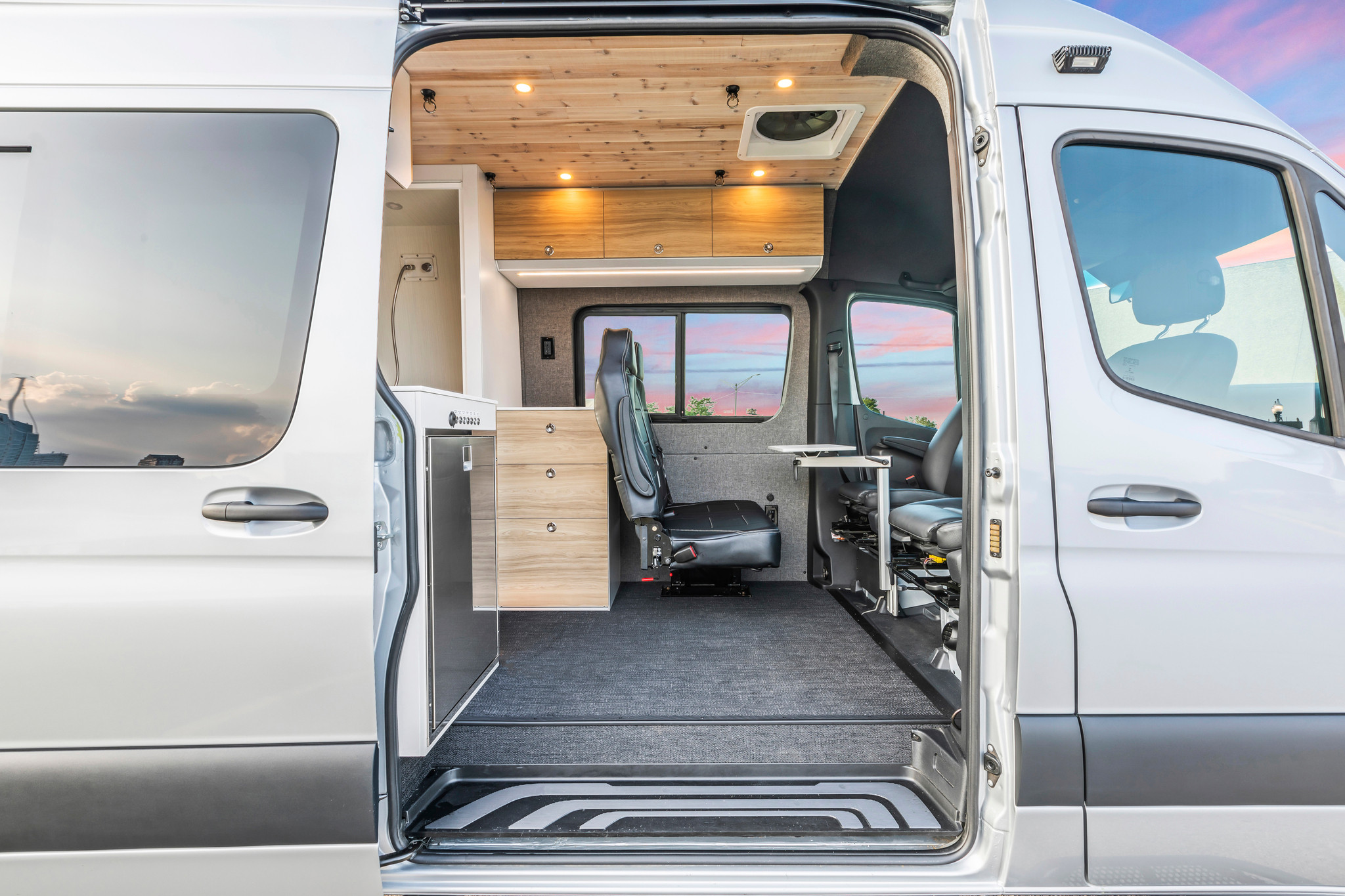 STANDING OUT BOTH OFF THE ROAD AND ON WITH WILSONART® ENGINEERED SURFACES
Highland Vans, a leader in the van builder space, partnered with Wilsonart to unite functionality and utility with interiors that capture the look and feel of a European luxury urban apartment. Wilsonart engineered surfaces are more resilient than any other laminate and easier to work with than stone, tile, granite, or marble. And for designers, they can't be beat when it comes to style or choice of color and finishes.
The Wonder of Walnut.
Walnut TFL helps the kitchen, office space, primary and secondary bathrooms at Fairview Slopes speak a uniform design language. In the kitchen, white upper cabinets pair effortlessly with customized TFL panels that conceal appliances. During broad daylight, the nature-inspired glow of TFL wall panels results in an office that seldom needs indoor lighting.