Remodeling a Historical Home with Wilsonart® Quartz and HPL Surfaces
Contemporary Modern Design that Strikes a Perfect Balance
When Interior Designer Michele Logan found a dilapidated 1949 historical home in the very desirable neighborhood of Palmcroft near downtown Phoenix, Arizona, it inspired her to embrace the mid-century era for the interiors. As it stood with its original floor plan, most of the house was in disrepair, cabinets were falling off the wall, and rooms were segmented into very small spaces, which is expected for its time but not suitable for today's modern lifestyle.
With the mid-century modern architecture in mind, Michele began the remodel by removing most interior walls and creating more generous, open spaces. A contemporary design for the interiors was unavoidable to support the style of the home. She turned to Wilsonart to provide the beautiful, hard-working, on-trend, and high-performing engineered surfaces that she needed for the new kitchen and bathrooms. She found Wilsonart's diverse portfolio of solutions–both decorative and functional–a canvas to create her warm and soft color palette.
She counted on the sheer variety of Wilsonart® Quartz and High Pressure Laminate (HPL) surfaces to meet her needs. With the hundreds of selections in a broad range of colors, finishes, and textures, the choices are a designer's playground.
In the kitchen and the adjacent coffee bar, she wanted more warmth to make each of these spaces unique. She chose the natural stone appeal of Wilsonart® Quartz surface tops for her kitchen island, back perimeter counter, and coffee bar. Not only did she get the stone-look she was seeking, but also the high performance she needed for these working spaces.
Her new countertops are non-porous, stain resistant, and easy to maintain. They are formulated to stand up to the harshest environments, and they do not require sealing. They are highly resistant to bacteria, chemicals, stains, and moisture, and thus will continue to look beautiful for years to come.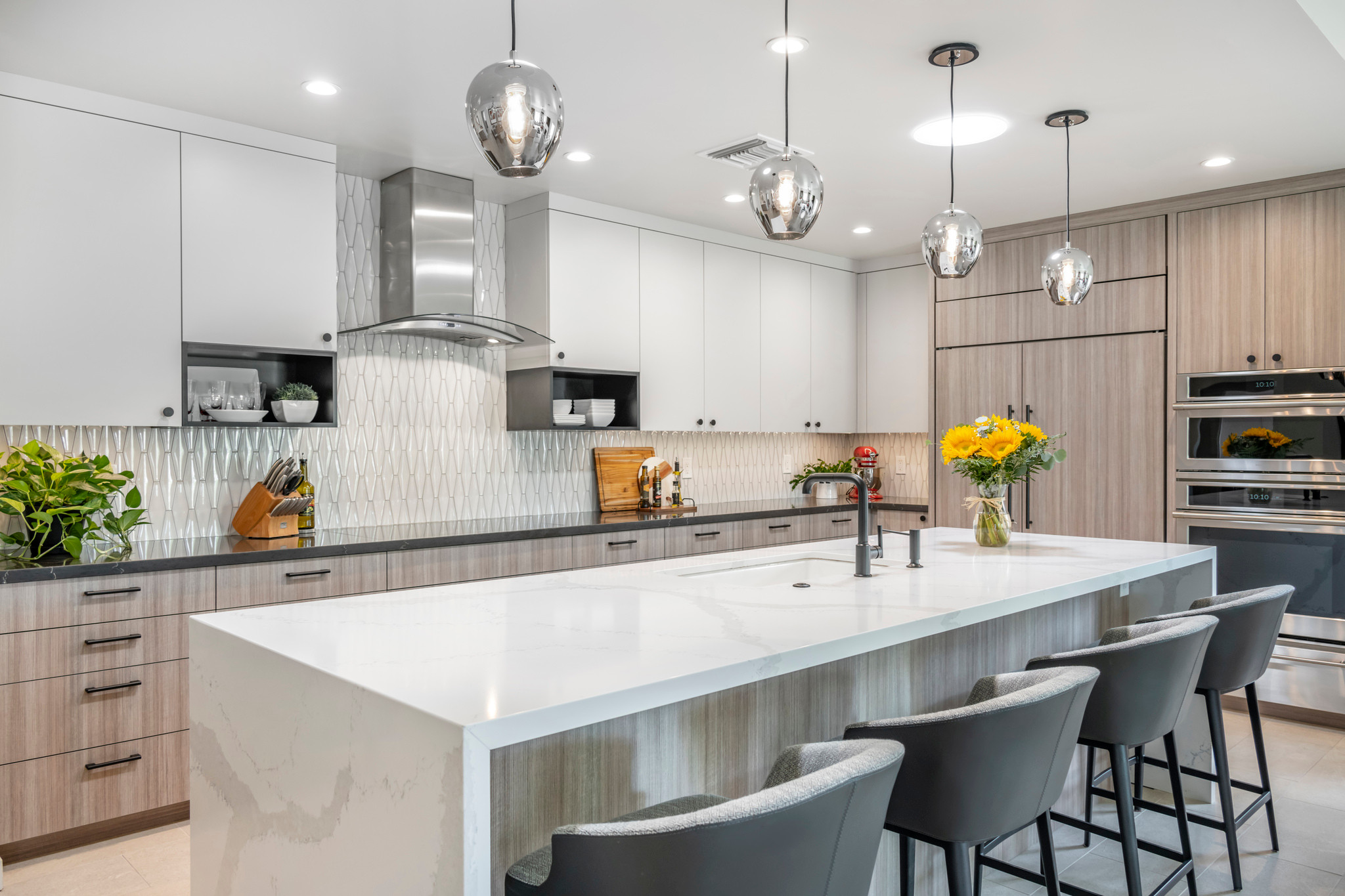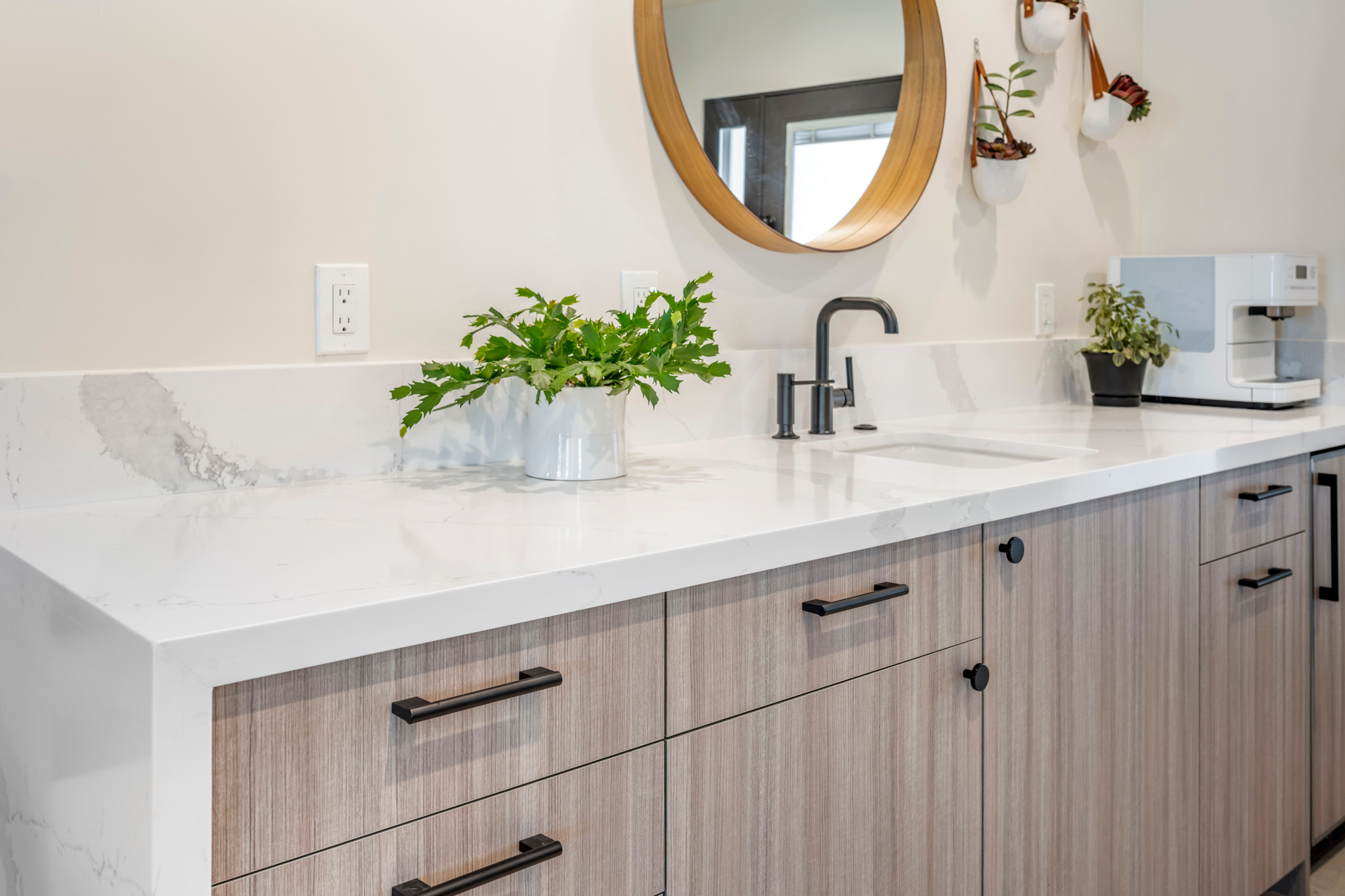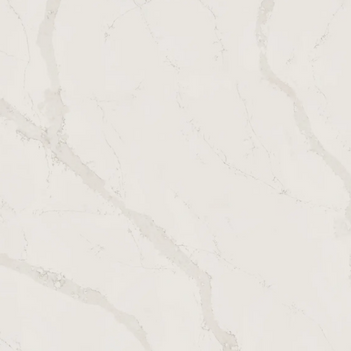 Wilsonart® Quartz
Calcatta Pastino
Q4058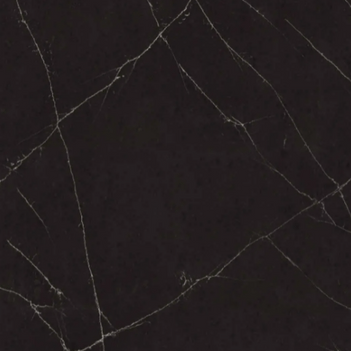 Wilsonart® Quartz
Enchanted Rock
Q4041
She chose Calacatta Pastino Quartz surface for her kitchen island and coffee bar counters. She liked its marble design, cool tones, and wide veins in a soft grey with thin darker grey veins. It's the common thread throughout her kitchen. She changed it up on the upper cabinets and the perimeter counter. For the perimeter counter in back she used Enchanted Rock, a Quartz surface that has a warm charcoal base with white veining in a fractured pattern.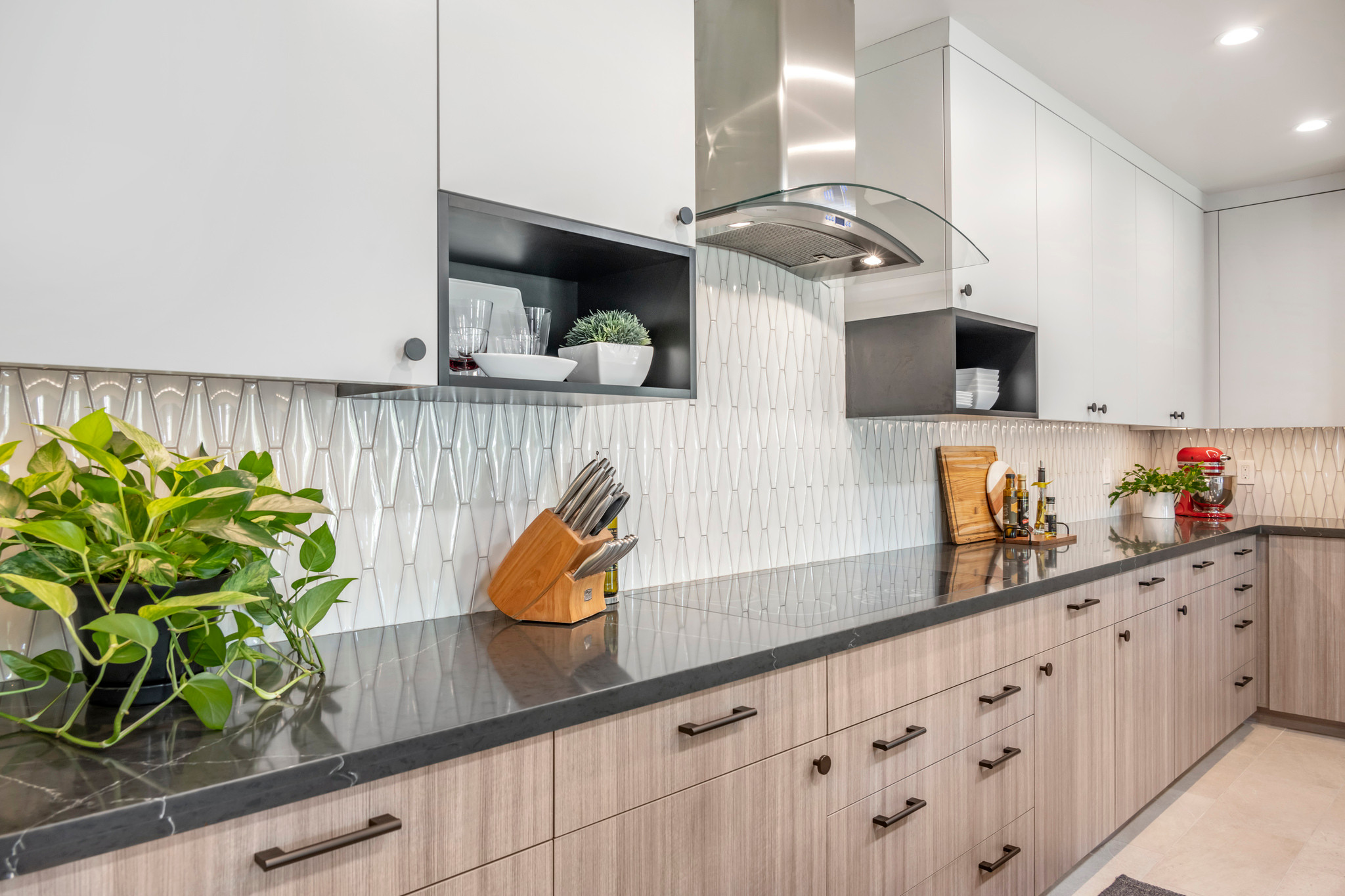 For her upper cabinets, she chose Wilsonart HPL in Crystal Matte finish and Black Matte finish. The Crystal Matte provides a light, warm white solid that opens up the wall space and contrasts extremely well with the matte black laminate design in the little cubbies.
For the cabinetry throughout the home, Michele chose HPL Veranda Teak gloss line finish with AEON™ Enhanced Scratch & Scuff-Resistant Performance Technology. Grain matching is always a challenge, but with Wilsonart HPL, her fabricator managed to pull it off flawlessly on the cabinet doors and drawers. The pattern is contiguous, for a seamless and cohesive look throughout the entire space.
The geometric tile Michele selected for the backsplash adds a textural elegance to the refined space and balances the bold Wilsonart finishes used in the kitchen and coffee bar. The geometric pattern reflects the Arizona desert geographical features, mimicking limestone, with the subtle movement she was looking for. Paired with the high-gloss 3-dimensional tile and the elegant quartz patterns, textured wood grain, and solid matte laminates the space becomes warm, inviting, and vibrant.
"I wanted to introduce more warmth because soothing tones are more welcoming and easier to spend long periods of time in, especially in an open kitchen concept. I feel the trend of that stark white, and cool gray palette in modern design has already started to phase out. I think everyone will begin to notice that warmth is being introduced back into interiors and you'll see my home really balances that light and airy look with warm tones and adding some drama with black accents."
— Michele Logan (Interior Designer)
Flawless, beautiful Wilsonart® Quartz countertops and HPL cabinetry make perfection easy
For the Master bathroom, secondary bath, powder room, shower, and bath nook, Michele wanted to do something different than the kitchen. She browsed the Wilsonart Quartz offerings, and found the perfect surface in Sangda Falls. She was inspired by its pools of warm color and dramatic movement in white and gray. With the countertop samples, she continued to develop and build out the warm palette even further.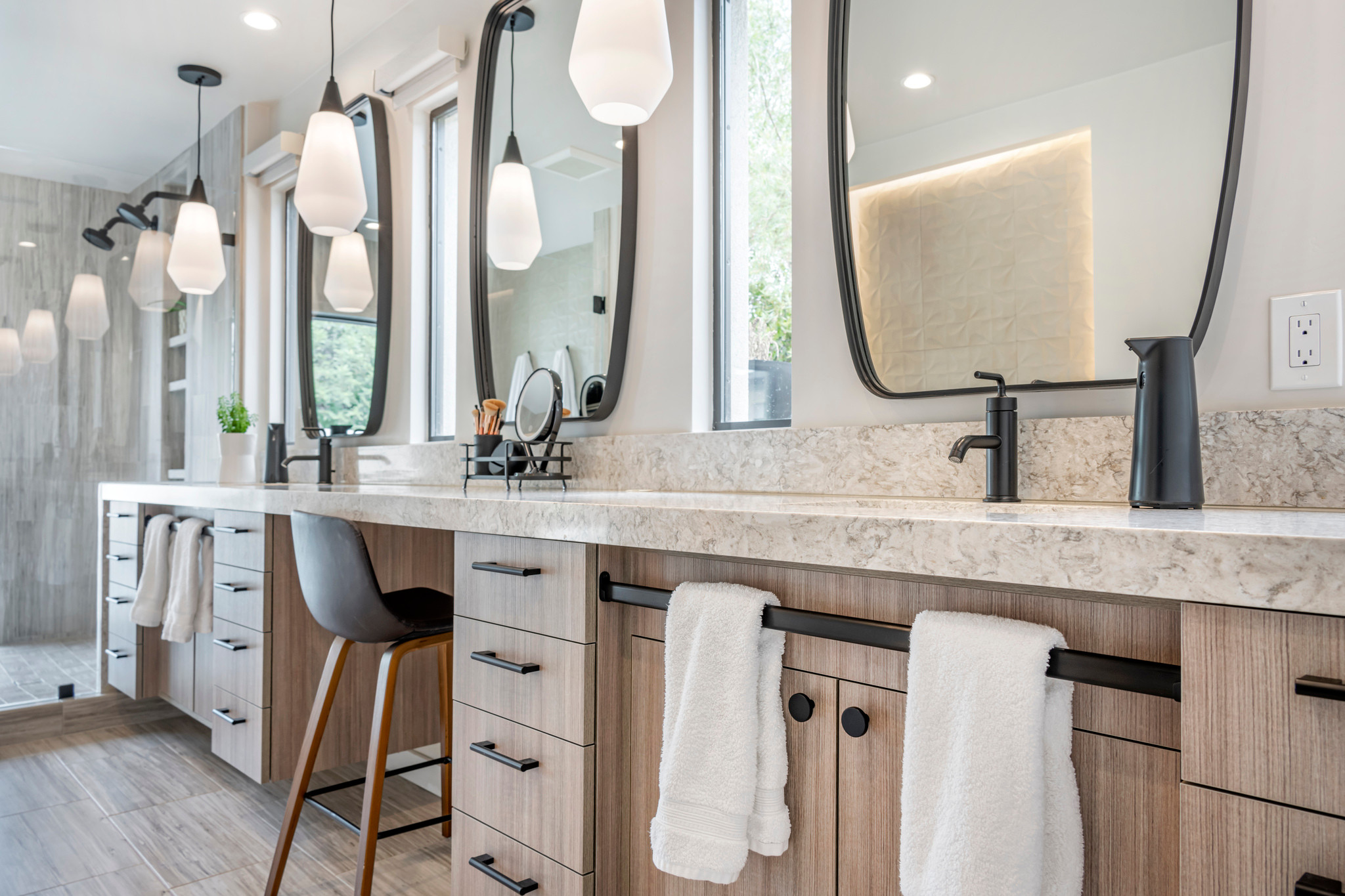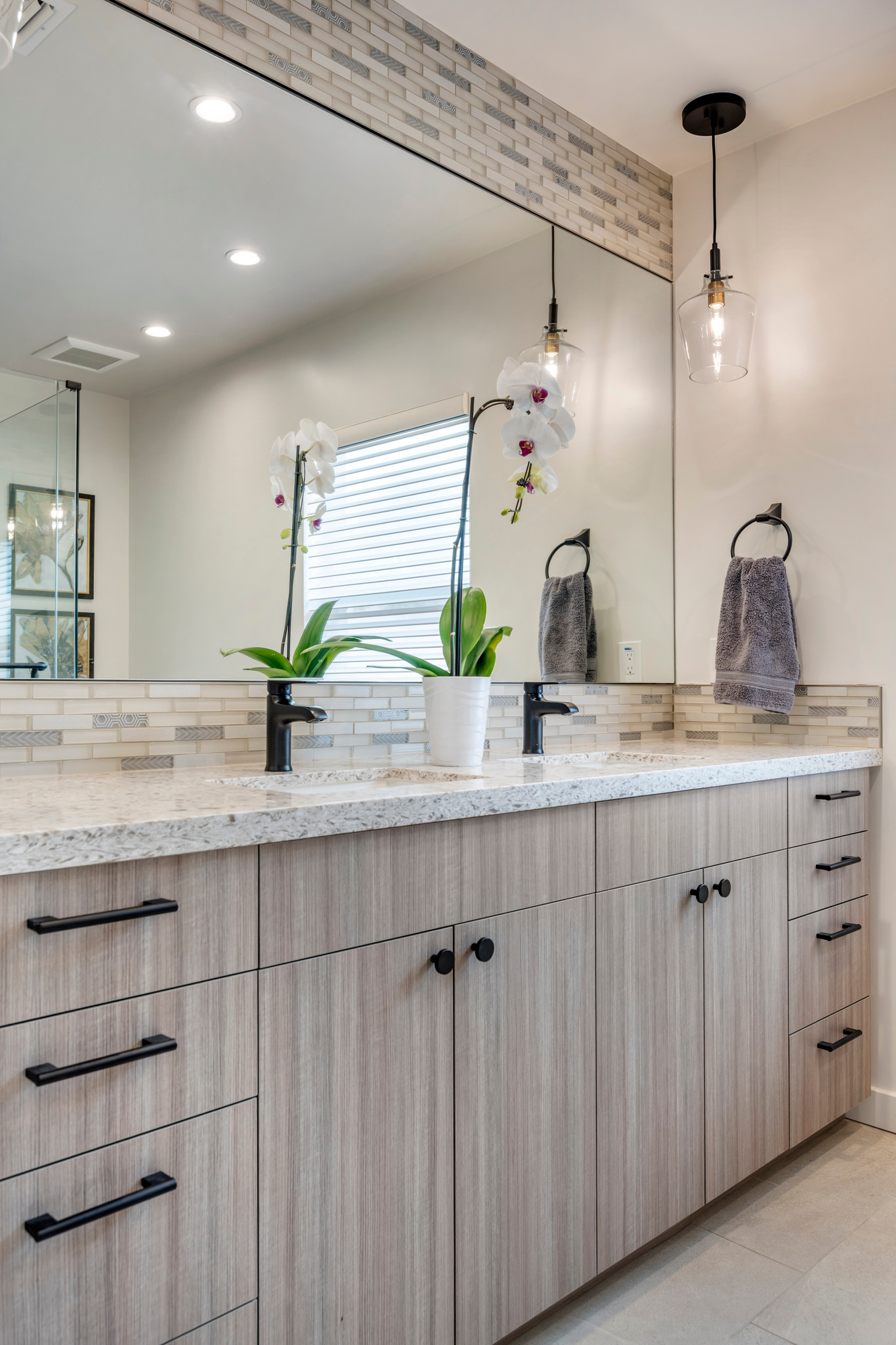 "I really like that many of Wilsonart Quartz patterns have dimension and play with light, that's important to me. Sometimes quartz can look screen printed or like a laminated surface, but I found that Wilsonart products have lots of depth. I also needed something low maintenance and virtually indestructible because people can be very hard on things, so I went with Wilsonart's engineered products."
— Michele Logan
The powder room countertops are done in Wilsonart Desert Wind, which uses a neutral, warm color palette with deep veins and subtle, pale taupe resin pools to create subtle movement. The shelves in the shower and bath niche are done in the same countertop material.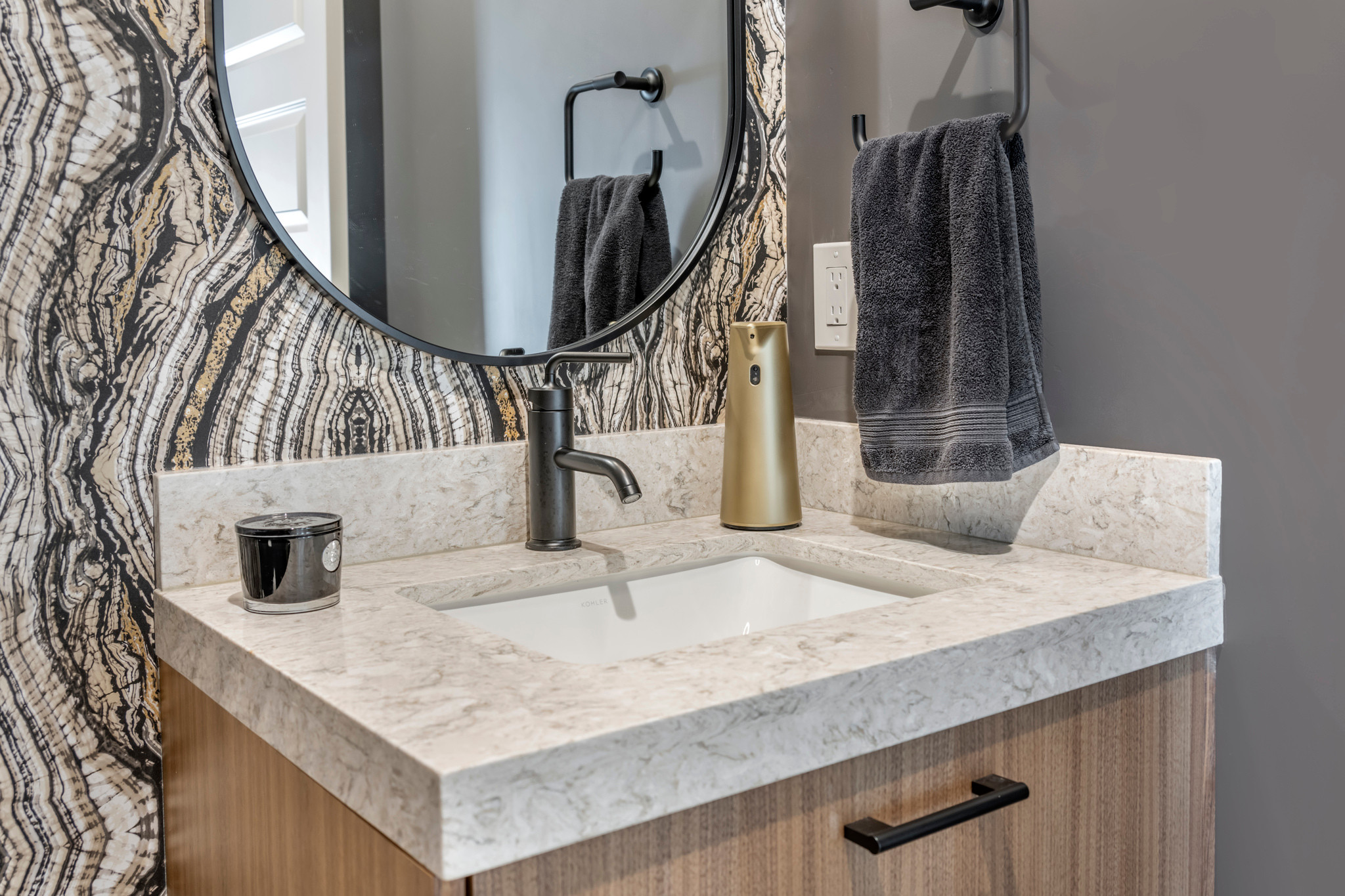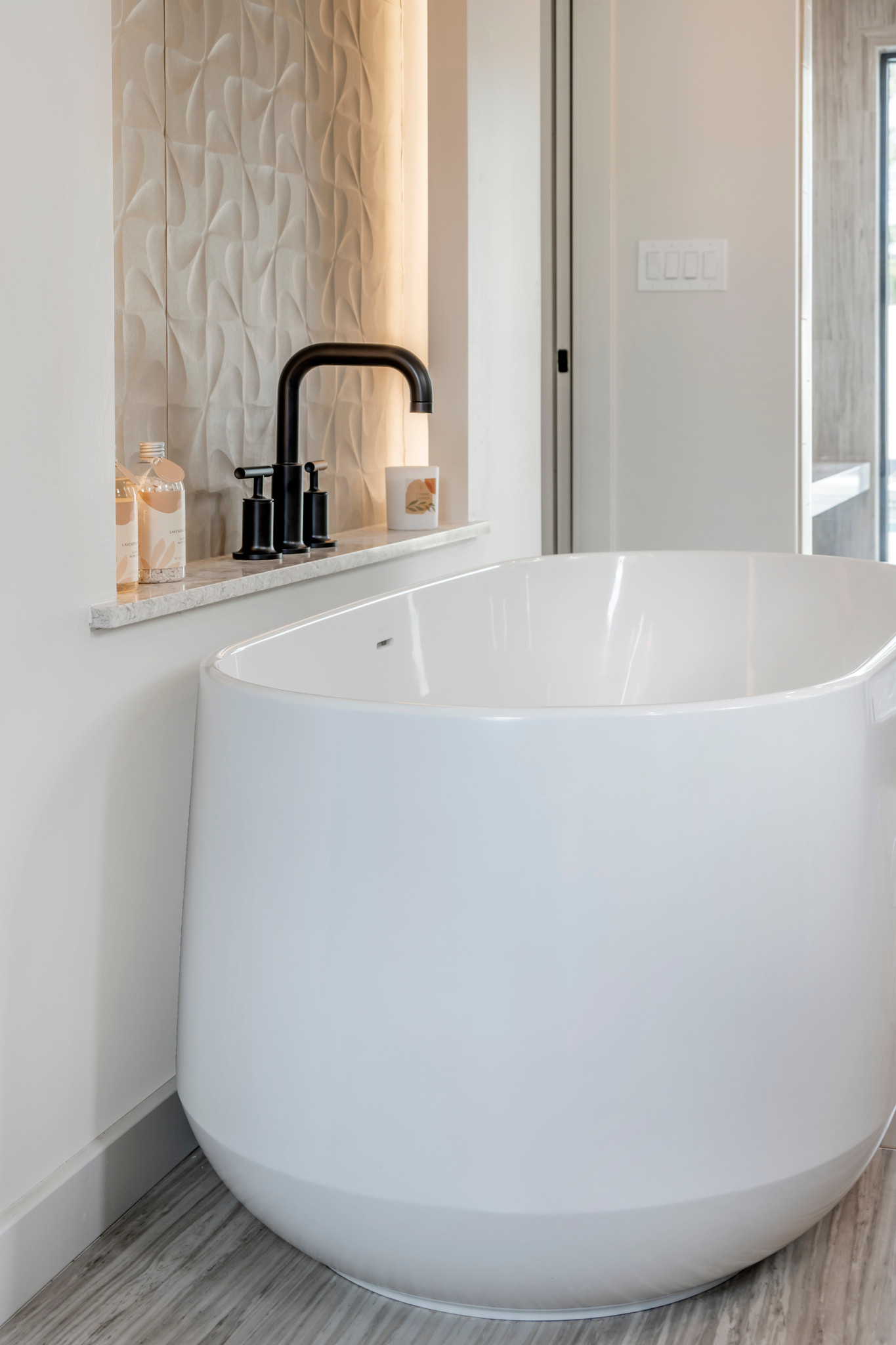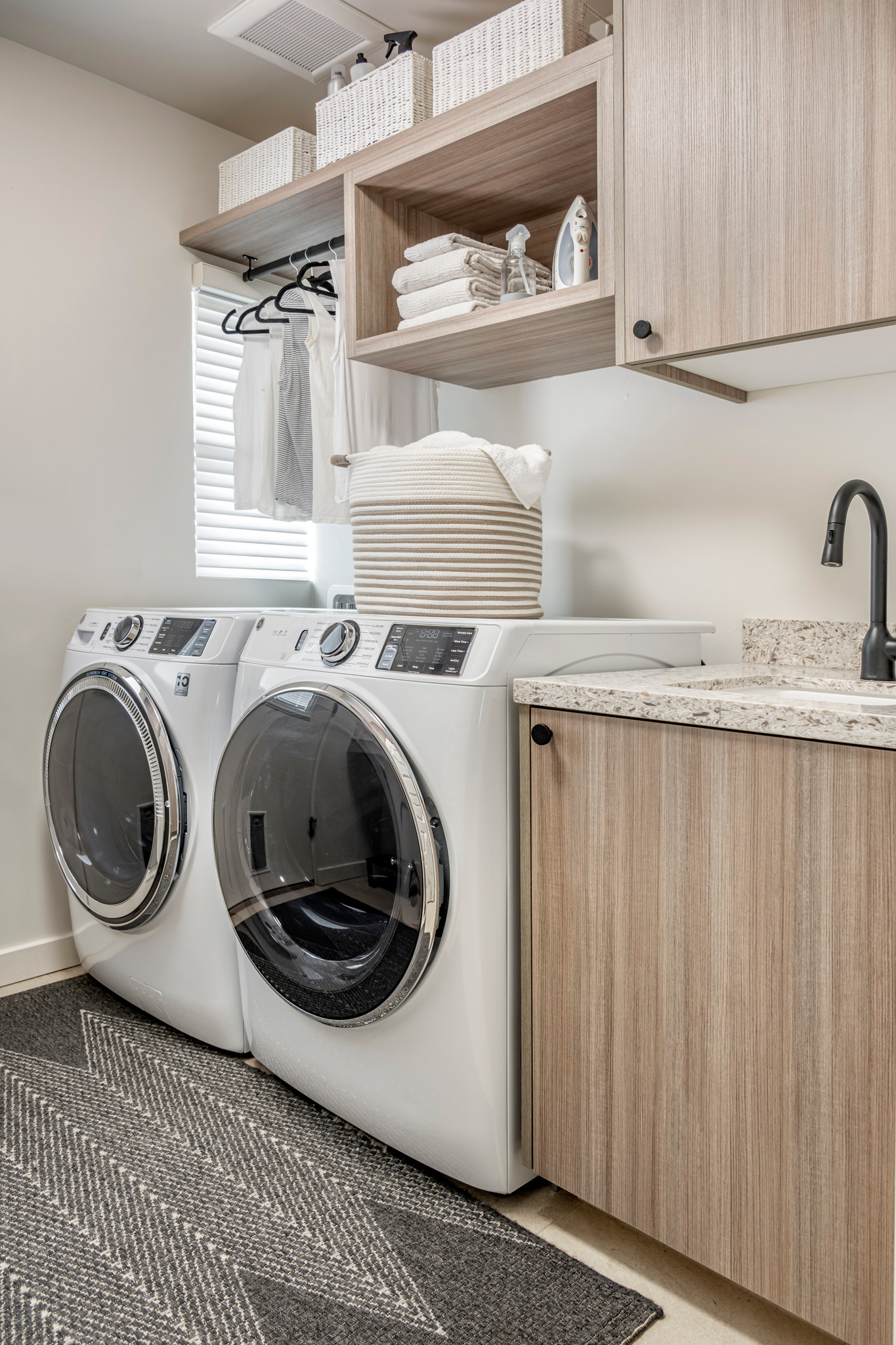 "Good design shines through when everything appears flawless, as complicated as some of the details may be, even grain matching the Wilsonart HPL plays an important roll in a seamless look. It takes a lot of coordination to execute all of those details when guests through my home and comment, 'Oh my gosh, it's so beautiful, it's just perfect'. then you know it's a successful design!"
— Michele Logan
The Wilsonart Home Quartz Collection pairs the vibrance of nature with the resilience required for a durable residential interior. Wilsonart® HPL offers a plentiful array of finishes — from mirror sheen to matte — along with decorative edges to achieve customized looks. AEON™ Enhanced Scratch & Scuff-Resistant Performance Technology is available for our HD® and Premium laminates for enhanced durability.
The Wonder of Walnut.
Walnut TFL helps the kitchen, office space, primary and secondary bathrooms at Fairview Slopes speak a uniform design language. In the kitchen, white upper cabinets pair effortlessly with customized TFL panels that conceal appliances. During broad daylight, the nature-inspired glow of TFL wall panels results in an office that seldom needs indoor lighting.